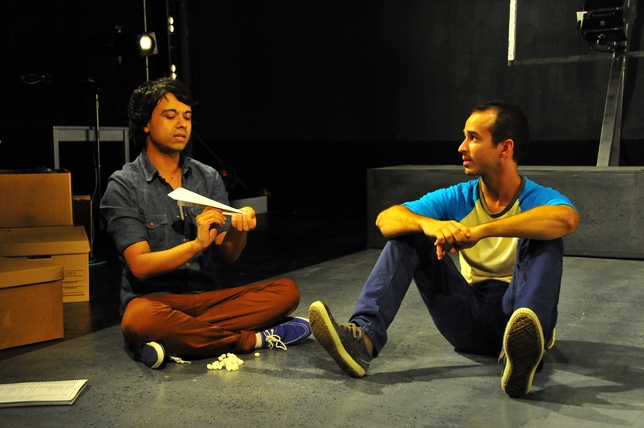 Jorge Ignacio Cortiñas juggles lots of themes and ideas in "Bird in the Hand," a sympathetic look at young people in flux. His varied motifs don't all fall neatly into place with the final blackout, but during the show's 90 minutes or so, the playwright demonstrates some dazzling dramaturgy. Cortiñas won critical kudos for his "Blind Mouth Singing," mounted inNew Yorkin 2007, a fablelike tale awash in magical realism. Here he shows himself adept in creating naturalistic scenes that bubble with wit and unforced emotions while still infused with imaginative theatricality.
Dislocation and aloneness are among his top concerns, and Cortiñas finds a grand metaphor for them in the flamingos that are the main attractions inMiami'sBirdlandFamilyTheme Park, where the play's central character, Felix, works. Narrating the story of his first post–high school summer, Felix notes that flamingos aren't indigenous to Florida but were brought from Cuba by a real estate developer who clipped their wings to keep them from flying back home.
The same sense of dislocation Felix sees in the birds pervades him. The theme park is owned by his Cuban immigrant father, and the tensions between parental expectations and Felix's own inclinations provide another narrative thread. Felix has a crush on his best buddy, Gabriel, and when Gabriel rejects Felix's advances, we're caught up in the fragility of youthful friendships. It's a theme further amplified when Felix makes out with Gabriel's girlfriend, Susan, in what he describes as "a proxy situation." Meanwhile, the growing uneasiness of living in the wake of Sept. 11 finds its way into the script via Vanessa, Susan's older sister, who works in airport security checking baggage going through the x-ray machine.
Cortiñas has directed, and the production seems in total harmony with the script. A case in point is the flamingos, which are portrayed by Robert Grimm, Theo Koppel, and Alicia Ohs dressed in street clothes, with no hint of feathers or beaks. Their movements, choreographed by Katie Workum, and their attitudes give them all the birdlike authenticity needed.
The four human characters are also beautifully realized. Debargo Sanyal makes us quite aware of the uncertainties within Felix, even as he covers them with an almost unflappable veneer of irony. Alejandro Rodriguez is an appealingly guileless Gabriel, and Susannah Flood makes Susan's sexy appeal evident without pushing. One confusing point: Susan is described as being anorexic, which is not discernible in Flood's trim but shapely figure. Similarly, Vanessa, it's suggested, is overweight, but that's not an apparent problem for Crystal Finn, the actor playing her—and quite delightfully too—in demonstrating the growing insecurity that Vanessa's job has engendered.
The play wants to pit reality against imagination. Some scenes, we're told, are simply daydreams. Are the weight issues imagined as well? Also more confusing than enlightening is the tendency to have characters other than Felix pick up his first-person narration. But these are small quibbles about a smart, distinctive show.
Presented by Fulcrum Theater at Theater for theNew City,155 First Ave., NYC. Sept. 5–23. Wed.–Sat., 8 p.m.; Sun., 7 p.m. (212) 868-4444 or www.smarttix.com.
Critic's Score: B+