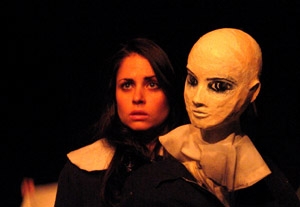 Italian theater artist Dario D'Ambrosi brings 30 years of work with the mentally disabled to bear in "Bong Bong Bong Against the Walls, Ting Ting Ting in Our Heads," an awkwardly staged but occasionally endearing musical fairy tale presented as part of the La MaMa Puppet Series. Written and directed by D'Ambrosi, this tale of three disturbed youngsters in a mental institution offers some schmaltzy platitudes about compassion and imagination, along with a couple of luxurious snatches of stagecraft.  
The children (played by Philip James, Celeste Moratti, and Ashley C. Williams) carry life-size puppet doppelgangers with blank expressions, as if to illustrate their disconnection from life. After Loga, played chirpily by Williams, is reprimanded for an overly imaginative answer to a math problem, her stern psychologist gives a grim report to her mother. Depicted with a Mary Poppinsesque affect by Theresa Linnihan, Loga's mother insists that one only has to love these children deeply to understand them. She then turns into a fairy and uses the power of the children's imagination—represented by vivid fabrics hidden inside their puppets—to transform their sterile world into a magical place of floating furniture and draping textiles.
Though greatly aided by Christian De Gre's bright score, D'Ambrosi seems unsure about where his piece should land tonally, resulting in more than a few uncomfortable scenes. For instance, a long sequence in which Loga's mother simply watches the straitjacketed children convulse and shout feels very dark compared to the other material. "Bong Bong" usually has the silly, frenetic energy of children's theater, but its loose narrative and slightly edgy tone suggest it is intended for a more mature audience. Nonetheless, Aurora Buzzetti's puppet and set design are stellar throughout, especially during the title song, when several school chairs float in the air, trailed by brightly colored fabric curlicues. 
Presented by La MaMa E.T.C. in association with Pathological Theatre as part of the La Mama Puppet Series IV—Built to Perform at La MaMa E.T.C., 74A E. Fourth St., NYC. Oct. 14–30. Thu.–Sat., 8 p.m.; Sun., 2:30 p.m. (212) 475-7710 or www.lamama.org.