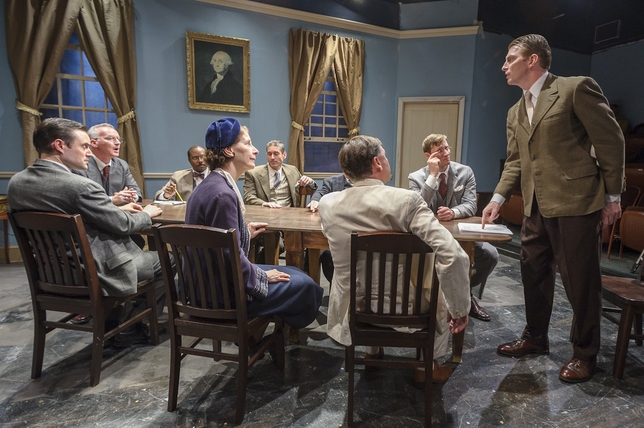 I'm surprised that theater companies across the country aren't jumping at the chance to produce "Both Your Houses," Maxwell Anderson's 1933 Pulitzer Prize-winning play that was first staged at the height of the Great Depression. The smart and incisive work is still startlingly pertinent to life today, especially in what one hopes is the winding down of the Great Recession, yet it isn't widely known. The original production ran only a couple months on Broadway, it was never recorded, and if you find a copy of the script online, you're having better luck than I did. (I eventually located it at Samuel French.) A new production at the Metropolitan Playhouse revives its relevance.
Set in the office and meeting room of the House Appropriations Committee in D.C., "Both Your Houses" is about the proposed passage of a bill for construction of a Nevada dam. Every congressperson wants to attach his or her pet project to the bill. But when idealistic young Congressman Alan McClean (Brad Makarowski) gets involved, he is so appalled by the earmarks that he eventually hatches a scheme to make passage of the bill impossible: It will be so stuffed with pork that it will oink itself to death.
Michael Hardart directs the show with the kind of rapid clip one associates with 1930s screwball film comedies. Characters talk fast and zip about. (Perhaps they're all so terrified of being laid off that they must constantly project industriousness.) The cast of 13 does strong, nimble ensemble work. Aided by costume designer Shana Goldberger, they look like they stepped out of magazines discovered in an attic. Their voices might have been lifted from vintage radiocasts.
Some ensemble members stand out. Kelly King is terrific as Committee Chairman Simeon Gray—who also hopes to whittle excesses from the bill—and his precise diction, intelligent eyes, and elegant posture give the patrician bureaucrat a George Will-like demeanor. Warren Katz is equally wonderful as the likable Solomon Fitzmaurice, a craggy, raspy-voiced veteran legislator fueled by cracker-barrel wisdom, cynicism, and hard liquor. And Teresa Kelsey shines as "Bus," a snappy-talking secretary who goes to work for McClean (and who knows the score on just about everything on Capitol Hill).
There are a few off notes. At the performance I attended, Makarowski seemed to overstate McClean's aw-shucks naiveté in early scenes. And it took Jenelle Sosa, who plays the chairman's daughter and McClean's romantic interest, Marjorie Gray, a while to limber up in her part, but she eventually got there.
Audiences will find themselves comparing this 1930s political parable with today's economic climate. There are uncannily familiar themes, such as the subjects of birth control or budgeting for unnecessary military machinery. Legislators squabbling over an appropriations bill might seem like dry stuff, but on a deeper level "Both Your Houses" features a struggle between two American impulses that may never be fully reconcilable—the capitalistic and the democratic. That dichotomy makes for a fascinating showdown.
Presented by and at the Metropolitan Playhouse, 220 E. 4th St., NYC. Sept. 29-Oct. 21. (212) 995-5302 or www.metropolitanplayhouse.org.
Critic's Score: A-