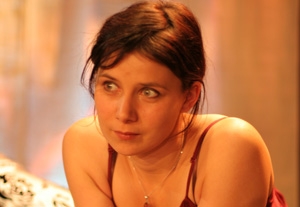 "Cats Don't Grin" belongs to the theatrical tradition of the intense but ambiguous two-person encounter: A man and a woman meet in a nondescript room, where they exchange clothes, indulge in elaborate role-playing games, and deliver reams of mannered and elliptical dialogue. François Carré translated the script from his own original, which premiered in Paris in 2008 as "Parfait Inconnu." He also co-directs (with Elinor Famutimi) and plays the unnamed male character, which was originally the unnamed female character in the French production. The erstwhile male character is played, somewhat tentatively, by Sanam Erfani.
A sophisticated conceptual ambiguity permeates the whole production. Initially, we're led to regard the couple as strangers who have gone to the man's apartment after meeting on a Paris subway platform. But as the head games proceed, we start to wonder if this is really a longtime couple desperately trying to reinvigorate their relationship by pretending to be strangers. (For that matter, the fact that the play supposedly takes place on a "scorching" Valentine's Day implies that it's not really Feb. 14.) It's clever, to be sure, but perhaps more interesting to think about afterwards than to experience in real time.

Presented by Petit Mot Theatre Company as part of the New York International Fringe Festival at the Studio @ Cherry Lane Theatre, 38 Commerce St., NYC. Aug. 13–28. Remaining performances: Thu., Aug. 26, 7 p.m.; Sat., Aug. 28, 9 p.m. (866) 468-7619 or www.fringenyc.org.