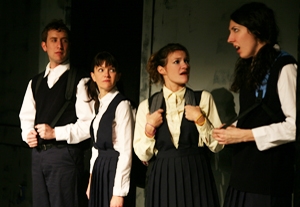 In April of 1986, Reactor No. 4 at the Chernobyl nuclear power plant exploded, sending a radioactive cloud the size of England over Europe. By the time evacuation of the nearby town of Pripyat, in what is now Ukraine, began, some of the residents were already dead. Three million children lived in the radioactive zone. But in "Children at Play," a new play by Jordan Seavey, that's nothing compared to the trials of adolescence. A strange mixture of creepiness and camp, the production combines a melodramatic heaviness with a frenetic pace that boggles the mind.
The first act follows five students making their way through a junior high school for the "gifted and talented." One of them, a "Chernobyl baby" born near the site of the accident, adds another dimension to the stresses of growing up: When she doesn't get her period, the wondering why is spurred by more than curiosity. The second act is bloated with shocking revelation upon revelation—shootings, eating disorders, incest, comings out, statutory rape—made through stilted techniques. Each rapid-fire scene seems to present a new twist before a quick set change. Perhaps this frenzied pace is meant to suggest the whirlwind feel of high school itself, but the melodrama of the material weighs it down.
The actors provide some bright moments, notably Susan Louise O'Connor as the precocious Morgan and Jennifer Dorr White in multiple roles, each a campy gem.
Scott Bolman's lighting highlights the compelling division between the children's outward innocence and their hidden secrets. In the opening sequence, the mood is drastically altered from a hide-and-seek game to a sinister scene shown in silhouette behind a backlit sterile curtain: a girl grabbed from her game, forced to be decontaminated by gas mask–sporting technicians. The effect is eerie, highlighting the alien misshapenness of the masks. Bolman uses the same means for more-comic purposes when illustrating the preteens' surreptitious activities that take place in the shower. These moments of division between the public and the private are the production's high points.
One of the children, presumably to emphasize his homosexuality, quotes "Hello Twelve, Hello Thirteen, Hello Love" from "A Chorus Line," and the comparison between the song and "Children at Play" is not flattering. "Hello Twelve" succeeds in connecting its overabundance of narrative threads because the stories are honest in a way "Children at Play" doesn't try to be.

Presented by CollaborationTown at the Living Theatre, 21 Clinton St., NYC. Nov. 5–21. Thu.–Sat., 8 p.m. (Additional performance Wed., Nov. 18, 8 p.m.) (212) 352-3101, (866) 811-4111, or www.theatermania.com.