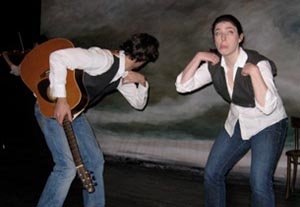 In "Cock-a-Doodle-Doo!," Danny Ashkenasi writes, composes, and stars in an adaptation of a Herman Melville story that leaves the audience wishing for the original.
The story has been outfitted with what Ashkenazi calls "musical doodles," ranging from recitative settings of Melville's words to fantasies on the squawking of fowl. Many of these interludes, in varying tones and styles, are quite evocative and help set the scene, a crucial task on a nearly bare stage. Unfortunately, the execution of Ashkenasi's vision does not live up to its promise. While the three ensemble players wear many hats—literally and figuratively—as instrumentalists, singers, and multiple characters, their transformations are rarely seamless and always feel slightly ill-fitting.
Ashkenazi himself plays Melville as wide-eyed to the point of simpering, despite the satirical original. His default emotion is an exuberance that sometimes renders his words unintelligible. And even with clever musical underscoring, aren't the words what Melville is all about?
Presented by Fredrick Byers Productions as part of the New York International Fringe Festivalat the Clemente Soto Vélez Cultural and Educational Center's Flamboyán Theatre, 107 Suffolk St
.,
NYC
.
Aug. 26
–
29. Remaining performances
:
Thu
.,
Aug. 27, 4 and 10 p.m
.;
Sat
.,
Aug. 29, noon and 10:30 p.m
.(
866
)
468-7619 or www.fringenyc.org
.