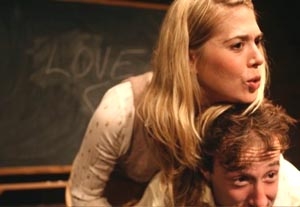 Andrea Kuchlewska's play "Complete" tackles how language—sometimes even the same words and expressions—can be used by individuals either to liberate emotion within themselves or to help stifle it.
Shifting back and forth in time, the play follows Eve as an adult (Lucy Owen) and as a precocious child nicknamed Evie (Sophia Nicole Rodyakin). As an eight-year-old, Evie's mother immerses her in "the program," a self-help ideology taught by the charismatic Jack (Dylan Price). While the program seems to help save Evie's mother from an abusive marriage, it has a different effect on her daughter. The adult Eve, now a linguist, feels the group used the same uplifting words to manipulate people. When her boyfriend Micah (Zac Jaffee) attends a similar seminar, Eve must confront long-suppressed feelings about her childhood experiences.
Kuchlewska's thought-provoking work is the first in a planned cycle of plays about language. It's an auspicious start. As sharply directed by Birgitta Victorson, "Complete" transitions nicely from past to present and offers a complete vision of this woman's life. The actors are all terrific. Owen and Price make notable adversaries, and Jaffee brings great strength to Micah's struggle. Rodyakin's sprightly performance steals the show.
Presented by Elizabeth Wipff and Margarita Javier as part of the FringeNYC Encore Series at the SoHo Playhouse, 15 Vandam St
.,
NYC. Sept. 15
–
27. Remaining performances
:
Fri
.,
Sept. 18, 7:30 p.m
.;
Sat
.,
Sept. 19, 5 p.m
.;
Sat
.,
Sept. 26, 7:30 p.m
.;
Sun
.,
Sept. 27, 3 p.m
. (
866
)
468-7619 or www.fringenyc-encoreseries.com
.