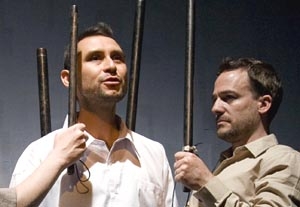 Playwrights have been letting their research show for centuries, but Jeffrey Solomon has gone over the top, both visually and aurally, with this 70-minute piece about a real-life Guatemalan teen who fled to the United States illegally and was deported back home in fear. Solomon, who also directs, calls himself the curator as well as the writer of the play. And well he might. On either side of the stage, nine clotheslines hung with documents, presumably all dealing with the case, provide the only stage set, apart from a couple of seating places. For emphasis, 28 mostly empty storage cartons, from which the hanging documents presumably came, are piled on the stage. The unfunny joke here is that an undocumented alien produces so many documents, even by the age of 16. Even more arresting than the set is a large screen upstage center, on which is projected a nonstop series of mostly black-and-white photographs, by Donna DeCesare, based on her coverage of Los Angeles–style gang life in Central America. As good as these photographs are, they eventually become too much of a muchness, as they are not literally of the characters in the play.
Edgar Chocoy Guzman ran away from reluctant gang membership in Guatemala at 14 to find his mother, who had already escaped illegally to the United States, settling in Los Angeles. Fearing a forced return to his homeland, where his fellow gang members surely would kill him, he tried to stay hidden. In his mother's rough neighborhood he joined another gang—in self-defense, he said. Once caught, he was jailed and became the subject of a lengthy series of deportation hearings over the next two years. These hearings provide most of the basis of the play. As Edgar speaks no English on his arrival in L.A., his Spanish testimony is translated into English (no fewer than four translators are credited in the program!), which renders the proceedings doubly endless. Even after we are told that Edgar can now write and speak English, much of his dialogue is still in Spanish, requiring translation. It reaches its most ridiculous point when he merely says "Si" and the translator then says "Yes." It's fitting that "de novo" means "anew" or "again."
None of the estimable actors here is at fault, hampered as they are by a narrative essentially devoid of action. Although he appears to be on the shady side of 30, Jose Aranda makes a credible Edgar, whom he plays throughout. The three other actors play multiple roles. Socorro Santiago is touching as Edgar's mother, and she and Carlo D'Amore and Emily Joy Weiner work convincingly as a variety of characters. Weiner goes so far as to read a letter from Los Angeles Police Chief Bill Bratten, an ex-Bostonian, in a dead-on Boston accent, a subtlety that may be wasted in such an in-your-face presentation. (Aranda and D'Amore are also two of the four translators.)
The timing of this production is certainly propitious, with immigration such a hot-button issue (and Edgar does stop for a time in Phoenix). But however badly this young man was treated both in the U.S. and Guatemala, he seems an unlikely poster boy for immigration reform.
Presented by Houses on the Moon Theater Company in association with Queens Theatre in the Park as part of Americas Off Broadway at 59E59 Theaters, 59 E. 59th St., NYC. May 4–16. Tue. and Wed., 7:30 p.m.; Thu. and Fri., 8:30 p.m., Sat., 2:30 and 8:30 p.m.; Sun., 3:30 p.m. (212) 279-4200 or www.ticketcentral.com.