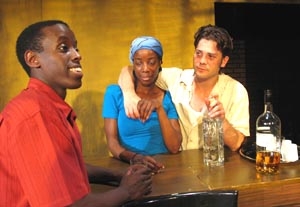 It's difficult to write a play about the spirit of a nation, particularly one whose recent history is as sensational as Mozambique's. The impulse is to go epic, to write in bold strokes: white, black, good, evil, freedom, tyranny. In
Death in Mozambique
, it feels as if the playwright was trapped by this impulse, driven to poetry by the emotional riptides of his subject and leaving the necessary threads of compelling drama—subtlety, depth of character, emotional surprise—behind.
The play is set in a bar called Freedom on the day the 1992 Rome peace accords were signed, promising to end 17 years of civil war. The bar is run by Joachim, an outsider who believes in Mozambique's future, and his lover Graça, a native who sees only its scarred history. Sins haunt their own pasts and their country's, friends and enemies swirl around, until Joachim is reduced to a remembered spirit of hope and Graça to a veiled, tragic heroine weeping at a graveside.
It's a great plot for 1950s Hollywood, perhaps, but as playwright Jonathan Alexandratos reaches for one sound-bite line after another ("We're here for a reason; I've found mine"), what could be compelling about these characters is lost, and their final destiny provides shock but no discovery and evokes in us no empathy. There are great ideas here, but in blending the horrors of life in Mozambique with the particular struggles of these characters, both become generalized and neither feels vivid.
Part of the problem also lies with actor Dan Pelonis, who is unable to carry the play as Joachim. The character is designed for a great leading man, one who gives off a sexy coolness while fighting to keep an inner terror at bay, but Pelonis is too detached. It's as though he's trying to play a bit part in somebody else's drama. Matthew Murumba, as an anonymous and high-strung denizen of the bar, brings much-needed energy to his two scenes, but it's not enough to keep this production from feeling as if it's being delivered through soundproof glass.
Presented by Jonathan Alexandratos and Cry Havoc Films
at the Cherry Pit at the Cherry Lane Theatre, 155 Bank Street, NYC. July 16
–
26. Thu
.–
Sat
.,
8 p.m
.;
Sun
.,
2 p.m
. (
212
)
868-4444 or www.smarttix.com
.