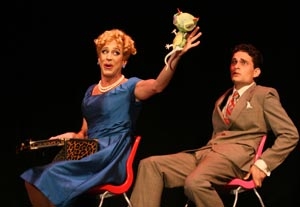 Everyone involved in the Fringe, take note: "Devil Boys From Beyond" is how a no-budget show should be done. Director Kenneth Elliott and playwright Buddy Thomas haven't allowed a lack of funds to prevent them from putting on a whiz-bang comedy, equal parts Charles Busch and 1950s schlock.
Reporters Gregory (Robert Berliner) and Mattie (Paul Pecorino) jet to Florida to investigate reports of aliens, shadowed by Mattie's rival Lucinda (Chris Dell'Armo) and stymied by oversexed townsfolk Florence (Everett Quinton) and Dotty (Andy Halliday). The special effects are hilariously low-tech, but the performances are deliriously inspired. Quinton and Halliday's scenes together are especially potent, two old pros having a ball chewing scenery.
Only Pecorino disappoints, with an inconsistent performance that grows wearing. Elliott would do well to rein him in (and cut Mattie's song, which kills the momentum), but "Devil Boys" is an uproarious homage to C-movies and the golden age of camp; an uneven lead performance is just part of that package.
Presented by Madcap Productions as part of the New York International Fringe Festivalat the Actors' Playhouse, 100 Seventh Ave. South, NYC
.
Aug. 23
–
30. Remaining performances
:
Thu
.,
Aug. 27, 4:15 p.m
.;
Fri
.,
Aug. 28, 7:30 p.m
.;
Sat
.,
Aug. 29, 4 p.m
.;
Sun
.,
Aug. 30, noon
.(
866
)
468-7619 or www.fringenyc.org
.