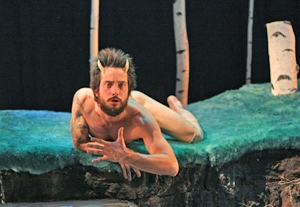 Mythology and medicine are not a typical pairing, but leave it to storied choreographer Tamar Rogoff to bind them into a truly absorbing experiment in movement. In "Diagnosis of a Faun," Rogoff has fashioned a role specifically for Gregg Mozgala, an actor with cerebral palsy, to see how the indomitable performer's physical limitations might withstand—or, indeed, redefine—the arena of dance.
In Rogoff's loose narrative, two lecturing doctors outline possible treatments for their patients. One doctor, played with stammering charm by actual doctor Donald Kollisch, must operate on an injured ballet dancer (Lucie Baker), while the other (Emily Pope-Blackman) is clearly attracted to the bizarre physiology of her unusual specimen, a 5,000-year-old faun (Mozgala). In both cases the culprit is the go-to literary symbol for weakness, the Achilles tendon: The dancer's exploded ankle has robbed her of her defining characteristic, while the same malformed muscles in the faun afford him his supernatural demeanor and allure. The mission statement couldn't be clearer: Rogoff seeks to provide new context in which to consider weakness and strength.
Working together for months, Rogoff and Mozgala have crafted a dance that allows the actor's unique physical condition to work to the advantage of the performance. Mozgala's uneven but focused gait imbues the role with an otherworldly physical cadence that is both apt and engaging. To see the other skillful performers execute these primal, twisting gestures, which seem to be reverberations of the faun's movements, is an affecting way to celebrate Mozgala's overwhelming abilities and commitment. Pope-Blackman shares a stunningly sensual dance with her mythic patient and later a gentle duet with Baker using a pair of crutches, perhaps Rogoff's reminders that the rehabilitator stands to gain as much from the act of healing as the one rehabilitated.
Presented by La MaMa E.T.C. in association with Tamar Rogoff Performance Projects and VSA Arts at La MaMa E.T.C., 66 E Fourth St., NYC. Dec. 3–20. Thu.–Sat., 7:30 p.m.; Sun., 2:30 p.m. (212) 352-3101, (866) 811-4111, or www.lamama.org.