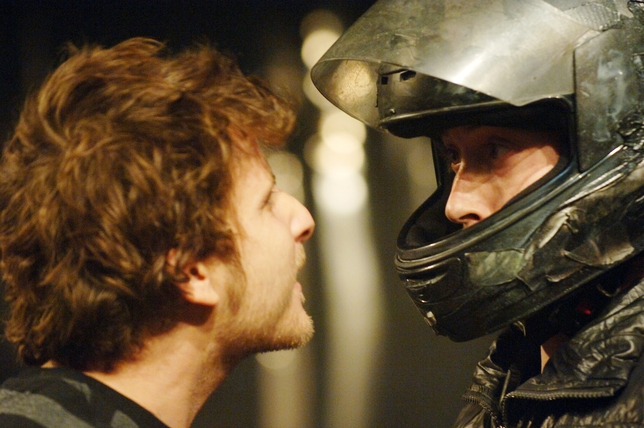 On its journey to production at the Fringe, "Dogs" seems to have lost its subtitle, "A Biting Comedy." That's probably just as well, as this movement-oriented work about a gay Israeli theater director trying to make an all-male musical out of "Romeo and Juliet" with Arab and Jewish actors is more interested in earnest symbolism and the studied deconstruction of masculinity than it is in subversive satire.
The halfhearted and rather opaque plot features two sets of brothers. Gili is the touchy-feely director, and Shahar is his straight sibling, whom Gili wants to fund the show with money he is spending on a present for their parents: a Jacuzzi. Abed is the Israel-born Palestinian installing it, and Rabbiah is his pleasant younger brother who runs violently afoul of the hulking security guard Nisim when he refuses to show his identity papers. Nisim, who I think is of both Jewish and Arab extraction, is a friend of Gili's and Shahar's and longs to be a professional singer. Somehow, Gili gets everyone to agree to put on the musical, and that's about the only thing they can agree on for the rest of the show.
Shahar lives 24/7 wearing a crash helmet (until, naturally, he dramatically takes it off) and winds up visibly pregnant and full of plans for his son. There are black plastic pails littering the set (dogs drink from pails) that of course eventually coalesce into a pyramid that is obviously destined for destruction. Gili, who zips himself into a suitcase when things get too stressful, keeps promising Abed to find an actress to play Juliet opposite his Romeo and inevitably tries to do so himself (in bad drag) and kiss Abed. Rabbiah refuses to remove Nisim's handcuffs. And so it goes.
The physically adept actors are committed to playwright Ido Bornstein and director Shlomo Plessner's head games, but a little of "Dogs" goes a long way.
Presented by TheaterCan as part of the New York International Fringe Festival at the New Ohio Theatre, 154 Christopher St., NYC. Aug. 16–24. Remaining performances: Sun., Aug. 19, 5 p.m.; Tue., Aug. 21, 2 p.m.; Thu., Aug. 23, 8:30 p.m.; Fri., Aug. 24, 10:15 p.m. (866) 468-7619 or www.fringenyc.org.
Critic's score: D