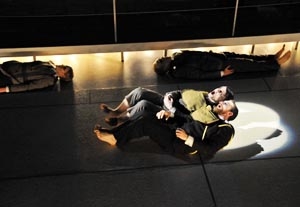 Theater Mitu takes the fascinating idea of dramatizing the philosophies of eight master acting teachers and ends up demonstrating the term
sophomoric
. Using video, recorded and live sound (there's a good combo of four musicians), and eight belabored actors,
Dr. C
(
Or How I Learned to Act in Eight Steps
) attempts to stage the words of Aristotle, Adolphe Appia, Konstantin Stanislavsky, Antonin Artaud, Bertolt Brecht, Jerzy Grotowski, Peter Brook, and Anne Bogart. It begins promisingly, with film projected onto the company members as they lay on the floor—Amy Charlotte's set design and galley arrangement feel sleek—and throbbing sounds courtesy of designer Alex Hawthorn. Then it devolves into a science fiction story so corny the original
Star Trek
would have sniffed.
Don't expect to see any of the 1919 expressionist murder-flashback film
The Cabinet of Dr. Caligari
, which supposedly inspired this piece.
Dr. C
replaces that silent-film classic's plot with a framing device: Eight actors wake to find themselves bossed by an unseen futuristic female voice (Jenni-Lynn Brick) into staging acting theories. In between each "unit," which are announced and ordered by the voice, they wonder why they are there and what they are doing. Unintentional ironies develop: In the Stanislavsky segment they sing, "We've had enough of theory." Unfortunately, singing theory is not the same as demonstrating it. No freshman could learn acting this way, let alone a space alien, and only someone conversant in the theories would appreciate the oom-pah-pah music in the Brecht section or the all-white costumes and Indian-sounding music in the Peter Brook part. Hearing the masters' words sung only makes one long to see them applied to something.
The actors work hard—sweat drips off them in the woolens costume designer Candida K. Nichols has given them to wear for the Adolphe Appia section—but Scott Spahr's repetitive choreography bores, as does Ruben Polendo's sluggish direction.
Presented by Theater Mituat 3LD Art & Technology Center, 80 Greenwich St
.,
NYC
.
June 4
–
14. Wed
.–
Sun
.,
8 p.m
.;
Wed
.,
Sat
.,
and Sun
.,
2 p.m
. (
No performance Sun
.,
June 7, 2 p.m
.;
additional performance Wed
.,
June 10, 10 p.m
.)(
212
)
352-3101
, (
866
)
811-4111, www.theatermania.com, or www.theatermitu.org
.