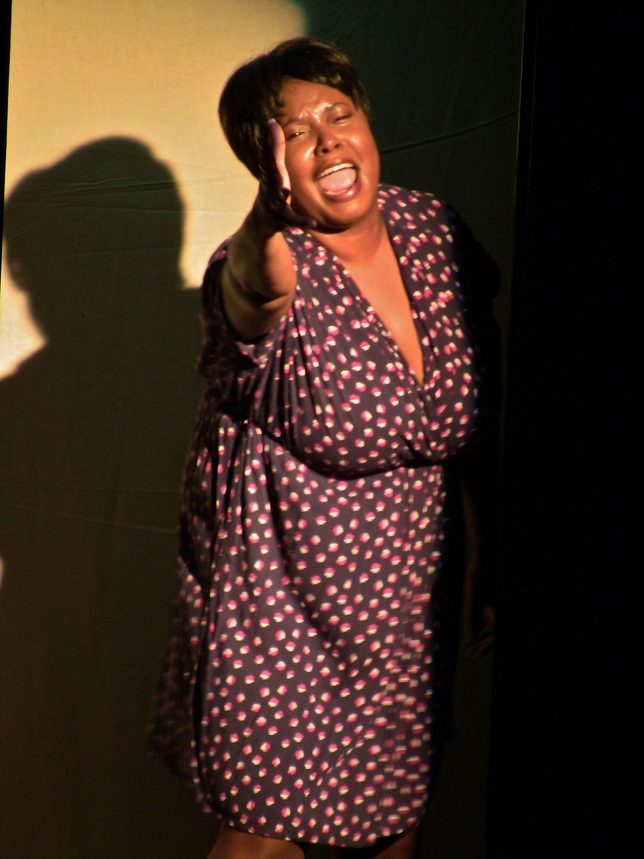 The heart of "Dreamgirls" is Effie White, the opinionated, talented singer whose dreams are thwarted when her stubbornness gets the best of her and her friends respond to the siren call of fame. A "Dreamgirls" without the right Effie cannot succeed, and Harlem Repertory Theater has discovered a great Effie. Dion Millington delivers a beautifully raw and unaffected performance, rupturing every heart in the house with her piercing renditions of "And I Am Telling You I'm Not Going" and "I Am Changing." Although Millington provides a fresh take on this iconic character, director-choreographer Keith Lee Grant can't do the same for the production.
Grant's stripped-down account of Tom Eyen and Henry Krieger's classic musical—about the rise to and fall from stardom of a singing trio known as the Dreams—has no cohesive vision and ultimately feels like an amalgamation of various earlier interpretations of the show. Natalia Peguero's costumes look like they came from a prom discount store and not the 1960s and '70s, when the show is set. Attempts to rejuvenate scenes with sparkly dresses, flashing lights, and jerky choreography only undermine the proceedings.
In a program note, Grant explains that he nontraditionally cast some of the roles, including Deena and Curtis, with Latino actors. Race is not the issue here, however. A lot of the voices are weak, and many of the performers can't seem to fully embody these tragically flawed characters. Peguero's Deena fades into the background, even when she's supposed to become a shining star in the second act. Oscar Aguirre, as the conniving band manager Curtis, fails to find his motivation. Eric Myles does his job as C.C. White and has a nice emotional connection in the second act, but Dennis Williams too obviously channels Eddie Murphy as music superstar James Thunder Early. Isis Kenney, as Lorell Robinson, finds her stride in Act 2. Darilyn Castillo shines in ensemble roles and as the fourth Dream, Michelle Morris.
With only a single keyboard player for accompaniment, Leal Vona's sound and Andrew Arango's music direction suffer, and the production doesn't pack the power it should. But Millington sure does.
Presented by the Harlem Repertory Theatre at 133rd Street Arts Center, 308 W. 133rd St., NYC. Aug. 24–Sept. 16; Oct. 5–7. Fri., 7 p.m.; Sat., 2 and 7 p.m.; Sun., 3 p.m. (212) 868-4444 or www.smarttix.com.
Critic's Score: C