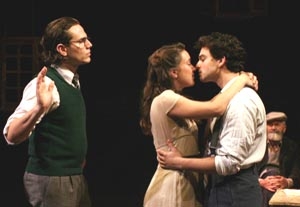 Garson Kanin is probably best known today as the author of "Born Yesterday" and co-author, with wife Ruth Gordon, of some of the best Spencer Tracy–Katharine Hepburn comedies. But the prolific Kanin had a long and varied career that deserves the "yearlong celebration" being promised by the producers of "Dreyfus in Rehearsal." The play is Kanin's Broadway swansong, his 1974 adaptation of a 1973 Paris hit by Jean-Claude Grumberg (who also wrote the screenplay for Truffaut's "The Last Metro"). It would be nice to report that this 12-performance flop was vastly underrated. Sadly, director Chad Larabee's capable production proves the historical verdict to be accurate. "Dreyfus in Rehearsal," despite some genuine charm, is too slight for its weighty themes and too thin to make a satisfying character study.
Set in Vilna, Poland, in 1931, the play follows the attempt of the highly strung Morris to direct an amateur production of his play about the famous 1894 prosecution for treason of French artillery officer Alfred Dreyfus, who was unjustly convicted due to anti-Semitism. Morris wants to use this as a wakeup call to his fellow Jews, who are ignoring the circumstances that will give rise to Hitler and the Holocaust. Some familiar archetypes are involved: the young lovers (Michael and Myriam), the fussy tailor (Mendl), the older ham actor (Arnold), the relentless mother figure (Zina), and the grizzled, philosophical caretaker (Zalman). Not much happens as we watch them struggle with the play, unable to find a personal connection to Dreyfus' story. Finally, a rehearsal is interrupted by two drunken thugs looking for some Jews to bash. As a result, the play is canceled, and the characters go their separate ways, some fleeing Poland and others staying.
Thanks to its characters' naiveté about their situation and tendency to run or hide rather than stand and fight, "Dreyfus" was probably seen in 1974 as an implicit endorsement of Zionism and the creation of the state of Israel, then a mere 25 years old. But Kanin, ever the populist, is first and foremost interested in entertaining his audience, so the edge necessary to make such a statement is blunted. There are some fun set pieces for the characters, and the cast largely delivers them. Lori Wilner does well by Zina's monologue of what she thinks Dreyfus' mother should have said to her son to keep him out of the army. Bob Ari makes Arnold's campaigning to play the lead role of Dreyfus, for which Arnold is entirely inappropriate, amusing. Paul Anthony Stewart and Lee Zarrett shine in an escalating altercation between Morris and Mendl over the historically correct color of Dreyfus' uniform. Ari Butler and Holly Ann Butler (no relation) are sweetly appealing as Michael and Myriam, who have been hiding their romance from Arnold, who is Myriam's father. Daniel Pollack does what he can with the underwritten Zalman.
The play's original production was notable for its star power: David Merrick produced; Kanin directed; a crack team of Boris Aronson, Florence Klotz, and Jennifer Tipton designed; and the cast included Ruth Gordon, Sam Levene, Avery Schreiber, then–TV star Peter Kastner, and, in her Broadway debut in a play, a 21-year-old Tovah Feldshuh. But the high gloss couldn't overcome the script's lack of narrative drive, predictable characters, and desire to please at the expense of its content. This more modest presentation can't turn the trick either.
Presented by Philip Morgaman, Emily Miller, Frankie Grande at the Lion Theatre, 410 W. 42nd St
.,
NYC. July 30
–
Aug. 7. Mon. and Tue
.,
7 p.m
.;
Wed
.–
Sat
.,
8 p.m
.;
Wed. and Sat
.,
3 p.m
. (
212
)
279-4200 or www.ticketcentral.com. Casting consultant
:
Jay Binder
.