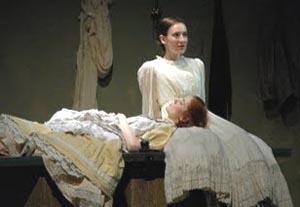 Emily Dickinson's poetry confines passionate, sometimes explosive energies—existential, erotic, spiritual—in tight stanzas of even tighter lines. It's a miracle they don't implode like black holes on the page. In director Steve Day's production of "Emily: An Amethyst Remembrance," an attempt to dramatize the psychic life of this unique poet, this energy is a crucial missing ingredient.
Playwright Chris Cragin's approach to Dickinson's story is to move backward in time, selecting eight scenes from her young adulthood to explain the willfulness and radical need for privacy that characterized her mature years. Thankfully, Cragin leaves enough mystery to keep his subject interesting, and his smart dialogue at times does justice to her poetry. He also successfully captures the complicated but unconditional love among Emily and her siblings that is often overlooked in accounts of her seclusion.
But this Emily is largely an ice queen, made all the more rigid by actor Elizabeth Davis, dressed and coiffed to match the daguerreotype from Dickinson's Holyoke years that holds our popular image of her: hair and clothing pulled tight, eyes and hands soft like a saint's. Davis and the play are best when Emily fails to keep ahead of her emotions, as when she throws herself on the bedside of a dying lover. But for most of the play, Davis hides from our attentions, leaving nothing much else to watch. The rest of the cast never impresses, with the occasional exception of the tarty Misty Foster Venters.
Day's minimalist staging does not serve the rich period detail that Cragin's script requires, so we never quite see the Amherst social world against which, we're meant to understand, Dickinson defined her character. Rachelle Beckerman's scenic design offers one brilliant touch, though: the use of a large door as the central signifying element of the production. We first see it as the door to the library where Dickinson isolates herself, but it becomes, alternately, a table, a grand piano, a divan, and eventually the door that separates indoors from outdoors. It is the mystery of this door that "Emily" seeks to unpack. It very nearly succeeds, except in bringing to life the silent figure within.
Presented by Firebone Theatre at the Kirk Theatre, 410 W. 42nd St., NYC. Sept. 16–27. Tue.–Sat., 8 p.m.; Wed. and Sun., 2 p.m. (212) 279-4200 or www.ticketcentral.com.