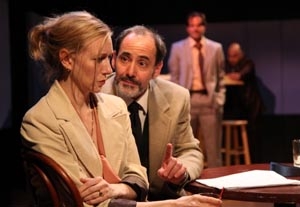 Feeling displaced lately? You have nothing on the characters in the five mostly irksome plays that make up Series A of Ensemble Studio Theatre's 33rd annual Marathon of One-Act Plays. The dramatis personae are an old woman lost in reminiscences, two hit men whose prey has escaped, lonely high schoolers, a couple of youngsters cavorting among packing boxes, and two guys plotting revenge against gentrification. Although occasional moments catch fire, the evening as a whole fizzles.
Best known is Romulus Linney's "Tennessee," first presented by EST in 1980 and revived to commemorate his death this past January. The setting is a North Carolina "estate" owned by Herschel, who lives there with wife, grown son, and newborn infant. Celebrating their prosperity, they're visited by an old woman who talks and talks about her past life on this land. They listen as she re-creates her courtship and marriage to a man who promised to take her to Tennessee. As directed by Harris Yulin, the cast is idiosyncratically country, thanks to Linney's precise ear, with Kristen Lowman wonderful as the garrulous old woman.
In Ben Rosenthal's "Ten High," which opens the bill, a husband and wife, both university professors, argue about his infidelity while they sit at a table. Looking on from the bar are two would-be killers, who use Homeric phrases like "the winter-weary commander" and Raymond Chandler ones like "Spare me the teardrop circus." The married couple is no more believable, although they have their own locutions. "It's too late to blandish you with children," she says, while he spews forth with, "I know you think I use determinism as a crutch." Director John Giampietro can't do much with this folderol, and the actors look understandably uncomfortable.
Then we have J. Holtham's "School Night," which juxtaposes several threads. One is about Ammon (named for the Egyptian god) and Lucy, two high schoolers with a yen for each other. Another has Daniel, Ammon's stepbrother, mourning the death of his cat and predicting the imminent sinking into the swamp of said high school. Well-acted by Curtis M. Jackson, Lance Rubin, and Lucy DeVito, under the direction of Abigail Zealey Bess, the work is intriguing, with unrealized promise as a pre-apocalyptic piece.
Billy Aronson's "In the Middle of the Night" also focuses on young love, in this case a pair of college students who sneak into a warehouse. Playing childlike foreplay games amid packing cases, they're surprised by the naive boy's mother and her male partner. Appalled at what she sees, mom tries to wean her son away from his predatory girlfriend. Though sketchy, it's energetic, as directed by Robert Davenport and choreographed by Wendy Seyb.
Finally, there's Qui Nguyen's "Bike Wreck," directed by John Gould Rubin, a film noirish take on the American dream turned nightmare, in which an African-American bike courier teams up with an Asian delivery man. A messenger is not merely a messenger, we're told, but "a bearer of news, a forerunner, a harbinger, a prophet." The messenger promises to teach the delivery guy how to rob a passerby. Their target, a Wall Street type, also happens to be a client of the courier. Guns are fired, fights are fought (choreography by Carrie Brewer), and sweat is expended. Despite some melodramatic tension, lines like "How much of my life is wasted" and "My life is decaying" might serve not only this play but the disappointing evening as a whole.
Presented by the Ensemble Studio Theatre, in association with Ellen and John Clarkson, Eleanor Naylor Dana Trust, Grey NYC, the Dorothy Strelsin Foundation, Bob and Jill Jaffe, CUNY TV, and Ann Sachs and Roger Morgan, at the Ensemble Studio Theatre, 549 W. 52nd St., NYC. May 23–June 18. Schedule varies. (212) 352-3101, (866) 811-4111, www.theatermania.com, or www.ensemblestudiotheatre.org. Casting by Tom Rowan.