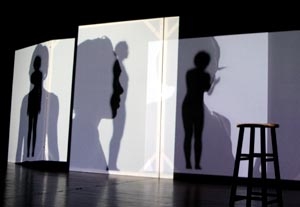 When done correctly, multimedia elements can add an otherwise unachievable frisson to a play, the recent Broadway mounting of "Brief Encounter" being a good example. But too often, video projections feel like a quick fix for a script that is seriously lacking, and that's certainly the case with Ivana Catanese and Kameron Steele's "Epona's Labyrinth."
A formless exercise in vignette-making, "Epona's Labyrinth" purports to follow Husband (Andrew Shulman) in his search of his wife, who was taken from their home in the middle of the night by a green ambulance. Others have been taken from their homes as well, and one such victim manages to sneak Husband the codes needed to penetrate the hospital, in return for his looking for her daughter. That sliver of a plot is quickly abandoned, however, in favor of a series of encounters that feel like pieces of other plays shoehorned into this one.
How else to explain why Husband doesn't seem all that concerned about the woman's daughter, on whom he spies repeatedly, or why he abandons searching for his wife in favor of trying to help a young girl (a moving Ximena Garnica) escape, despite the fact that her bones are made of glass? There's also a nurse (Sophia Remolde) who gestated in the womb of a cow—the only possible inspiration for Remolde's artificial, affected performance.
The rest of the performers admirably commit to the shaky material under Steele's direction, but they can't make the endless loops or confusing, complicated digressions interesting or even memorable. As things get more bizarre and arbitrary, any tenuous emotional connection that may have sprouted between the audience and the desperate Husband shrivels back to nothing, leaving us with a series of pretty and vaguely menacing projections that reduce the actors to backdrops. 
Presented by Here and the South Wing at Here Arts Center, 145 Sixth Ave., NYC. April 9–23. Tue.–Fri., 8:30 p.m.; Sat., 4 and 8:30 p.m.. (Additional performance Mon., April 18, 8:30 p.m.; no evening performance Sat., April 23.) (212) 352-3101, (866) 811-4111, www.theatermania.com, or www.here.org.