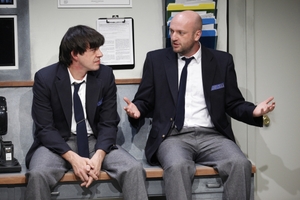 Jessica was 17 when she died. She was Paul's whole life, and now he can't go on without her. His co-workers at the security office feel like they knew her and sympathize with Paul in his mourning. Jessica was not Paul's daughter. She was not his wife, sister, or even girlfriend. She was his cat.
The cat is, of course, a metaphor for companionship, used by playwright Ethan Lipton in "Red-Handed Otter" to explore how humans inherently self-sabotage their own chances at happiness. Lipton's characters are a bunch of sad sacks who work in a security office (expert scenic design by Andrew Boyce). Paul is a depressed, unmotivated middle-aged man who has allowed his cat to be his excuse for not becoming anything more. Paul's colleague Donald is a pompous jerk, the kind of guy that girls fall for but never end up with, and he's just beginning to realize his behavior is a problem but still can't discern why. Donald and Paul bond over their past pets – Donald had a red-handed otter – but that is as far as their friendship goes, since Donald is dating their co-worker Angela, who also happens to be Paul's ex-girlfriend. However, Lipton turns this unlikely love triangle on its head, which feels more akin to real life than the Hollywood idea of romance.
Lipton's characters embody the baseline of humanity, and his one-liners and monologues are wonderful showcases for his actors, particularly Matthew Maher. As Paul, Maher so fully embodies this pathetic loser and makes him so relatable that his performance is the reason to see the show. That he can deliver at least two monologues about cats with a sense of freshness and believability is a tribute to both his performance and Lipton's writing. Bobby Moreno makes the unknowingly antagonistic Donald appropriately detestable, while Rebecca Henderson's Angela is a smart, headstrong woman, the only one of the three who decisively makes a change in her life. While the other employees, Randy and Estelle, seem somewhat tangential to the plot, Gibson Frazier and Quincy Tyler Bernstine make the pair endearing.
Though sturdily structured, "Red-Handed Otter" is ultimately anticlimactic. However, that is clearly the point. Director Mike Donahue emphasizes the drama more often than the comedy, and the play's set-up mimics the directionless lives Donald and Paul's directionless lives. You are the only person who has the power to screw up your life. And you're also the only person with the power to change it.
Presented by The Playwrights Realm at the Cherry Lane Theatre, 38 Commerce St., NYC. Sept. 20-Oct. 6. 866-811-4111 or www.ovationtix.com. Casting by Paul Davis/Calleri Casting.
Critic's Score: B+