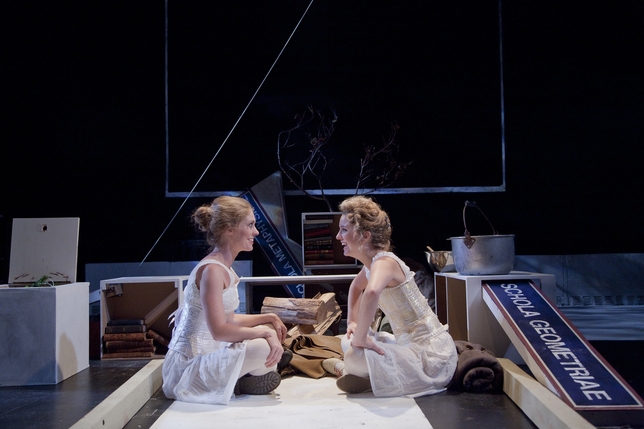 Full disclosure: My critical powers fail utterly when confronted with a clever wordy title.
Nothing tickles me more than an awkward descriptor that refuses to abbreviate, obliterates standard capitalization (which I can't show you because my compulsive editor has corrected it), and playfully bludgeons an audience with decadent pretensions. This weakness stems from a fundamental belief that any artist with the gumption to carefully construct an imaginative, rambling title long enough to confound the Twitter character limit must have something equally cunning in store for the work itself. All things being equal, Incubator Arts Project's production of "Everything That Is the Case for Two Young Women on the Eve of the Great War Among Other Elegant Lies" seemed like a solid bet. Alas, writer-director Frank Boudreaux's admittedly amusing treatise on pre–World War I philosophy and misogyny too often retreats into its own ambiguity as it escalates to encompass ever more nebulous ideas about gender, thought, and everything else that is (or isn't) the case.
It could also be that Boudreaux's slaphappy play about two revolutionary women,Lenaand Maddie, who attempt to infiltrate the male-dominated world of ideas, is a kind of madcap Möbius strip that simply inverts in upon itself in a way that I cannot quite fathom. I claim no proficiency in the analytic philosophy of Bertrand Russell and Ludwig Wittgenstein—which Boudreaux riffs on heavily—yet the whole affair reeks of a recently completed 101 course. That said, the show benefits immensely from its explosive creative urgency and capably energetic performances by Winslow Corbett and Megan Emery Gaffney.
Lena (Corbett) and Maddie (Gaffney) meet cute when both show up at the men-only Oxford Bodleian Library with dynamite, ready to bring down the political, cultural, and artistic trends of Europein the 1910s and build their own in their place. Boudreaux spectacularly stages the rickety collapse of production designer Andreea Mincic's set, which reproduces Oxforddepartmental signs such as "Schola Metaphysicae." Stripped down to their corsets and living off carrots, it's no mistake that the campsite where Lena and Maddie set up their "OxbridgeGymnasiumSchool" seems like no man's land at times. Boudreaux's script frequently references the "great war" ahead (it's in the title!) and the enormous influence it would have upon the world of philosophy.
ButLena, who is Russian, and Maddie, who is British, never get too hung up on the prospect of violence in their home countries. They spend most of their time running peculiar drills wherein they must hop through obstacle courses while reciting doctrines or impersonating their idols, Russell and Wittgenstein. Gaffney invests the prim Maddie with a hilarious barely buttoned-up mania throughout, never more evident than in a scene in which she pens inane truisms for a calendar. As the more invigoratedLena, Corbett excels in an uncomfortable botched love scene between the two women.
It's all great fun—especially the haughty pre-show high jinks enacted by a theater company known as St. Fortune—but the density of ideas can get overwhelming. Points for the title, though.
Presented by Incubator Arts Project at St. Marks Church, 131 E. 10th St., NYC. Sept. 6–16. Tue., Thu.–Sun., 8 p.m. (212)-352-3101, (866) 811-4111, or www.incubatorarts.org.
Critic's Score: B-