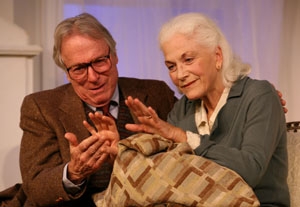 Aidan Mathews' "Exit/Entrance," originally produced at Dublin's Abbey Theatre in 1990, is getting its belated American premiere thanks to Origin Theatre Company and the First Irish Theatre Festival. Poet and prose fiction author Mathews' play is the kind of self-consciously composed drama that prides itself on minimizing such tedious concerns as plot and exposition, hiding important information as much as it can while still trying to play fair. Its spare, heightened language is more suited to the page than the stage, certainly unconvincing as an example of how people in relationships really talk to each other (or don't, as the case may be). Mistaking poetry for profundity and mystery for meaning, it makes for a long 105 minutes.
The simple idea is to contrast two couples, one long married and near the end of life and one just starting out. According to the playwright, 40 years separate them in age, but they exist in the present, living in adjoining apartments in a "period townhouse, in a university town." (Why be specific? It's too vulgar.) Taking place across a single evening, Act 1 observes the older couple and Act 2 the younger. Sounds emanating from the offstage apartment are carefully orchestrated to jibe with the action of each act. And yet the couples share the same names (Charles and Helen), accents (his American, hers Irish), and events in their life stories (an obsession with and a trip to Greece). Could it possibly be the same couple in both acts? Sure. Or not. (Why make a choice? It's so limiting.)
Little expositional bombshells dropped casually into all the talk suggest that the older Charles and Helen have a gay son whom the father has banished (to mother's regret), struggle with health issues (she had something resembling a breakdown; he may have a terminal illness and a colostomy bag), and have decided to end it all with some pills this very evening. The younger couple, who are just moving in, have issues about marriage (she wants to but he won't ask) and being close (in examples of the studied dialogue, he says, "I can't cope with your cry look"; she complains, "I wish you could love me with a little less subtlety"). Sometimes they go so far as to hide behind koala bear hand puppets (named Dimwit and Frolic) to express their feelings. The dramatic action in both acts is intended to come from small emotional moments between the couples; the operative word in that sentence is "small."
Under M. Burke Walker's rather stately direction, four fine actors do everything they can to animate the precious material. Linda Thorson offers a memorable combination of surface fragility and inner strength as the older Helen, never more touching than when wanting to answer a ringing phone behind which she is convinced is her lost son. Greg Mullavey's older Charles is a willful, dominating figure with banked fires of rage who nevertheless loves his wife tenderly. Lara Hillier is charming and spirited as the younger Helen, radiating promise, and David L. Townsend's younger Charles is an intriguing combination of geekiness, confidence, shyness, and despair.
Lighting designer Chris Dallos' excellent work captures the delicate differences in shading as day turns first to twilight and then the blackness of night. He also subtly suggests the passing headlights of cars through the flat's windows, something Mathews calls for repeatedly in his script, though its purpose is obscure—just like his play.

Presented by Origin Theatre Company as part of the First Irish Theatre Festival at 59E59 Theaters, 59 E. 59th St., NYC. Sept. 15–Oct. 3. Tue. and Wed., 7:15 p.m.; Thu. and Fri., 8:15 p.m.; Sat., 2:15 and 8:15 p.m.; Sun., 3:15 and 7:15 p.m. (212) 279-4200 or www.ticketcentral.com. Casting by Stephanie Klapper Casting.