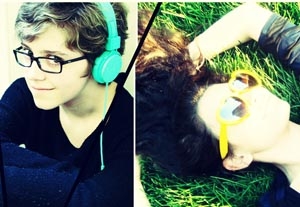 The tweets, texts, and status updates of adolescent girls seem more likely subject matter for a Nickelodeon sitcom than for a serious play, but "Facebook Me," a collaborative effort from the Arts Effect All-Girl Theater Company, takes an insightful look at the impact of media saturation on a loosely connected network of female tweens. As the show opens, the script, written by the young cast, appears to be a jumble, with each of the girls entering and jabbering over her iPhone in Facebook style about boys, parties, clothes, parents, and school. There follows a series of a short, sharp scenes, each featuring a different set of problems created by omnipresent social media.
Ava is developing a shapely figure that she shows off in online pix. This gets her plenty of male attention but also makes her feel "slutty."Ali and Sarah obsess over their bodies when they find their photos ranked according to "hotness" on a college boy's website. Nicky questions her sexuality after a video clip in which she made out with her best friend, Liv, on a dare has been shown online. These vignettes, plus several equally truthful others, combine to deliver a funny yet painfully moving mosaic of coming of age in the digital era. As both writers and actors, the company members display powers of observation and emoting beyond their years. Kudos to Katie Cappiello and Meg McInerney for their precise direction.
Presented by the Arts Effect All-Girl Theater Company as part of the New York International Fringe Festival at the Clemente Soto Vélez Cultural Center's Teatro Sea, 107 Suffolk St., NYC. Aug. 22–28. Remaining performances: Thu., Aug. 25, 2 p.m.; Fri., Aug. 26, 6:30 p.m.; Sat., Aug. 27, noon; Sun., Aug. 28, 2:45 p.m. (866) 468-7619 or www.fringenyc.org.