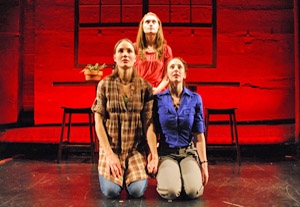 Some things in life you never really get over—everything, maybe. Three women in Rebecca Louise Miller's new play "Fault Lines" experienced a breathtaking trauma as little girls: They sat quietly while a man abducted their friend from her own slumber party. Miller's play, inspired by the Polly Klaas kidnapping in California in the 1990s, raises questions about healing, forgiveness, choice, even the death penalty. Her dialogue is sensitive, sometimes poetic, and she fully imagines the situation. She also performs the role of Jessica, the most interesting character, who has devoted her life to working with a foundation for missing children.
Just before the execution of the kidnapper, Jessica and angry, belligerent Kat (Anaïs Alexandra) arrive to visit Bethany (Jenna Doolittle), a shrill, overly cheery, devout Christian who still lives in the Sonoma town where it all happened, in a home that is aggressively eco-conscious. It's essentially another slumber party, but this time it's their own memories that throw a darkness over them. Bethany has written to the kidnapper and wants the other two women to go with her to the prison. Grayson (Tobin Ludwig), a newscaster with the hots for Jessica, wants to get the three women's exclusives about what happened that night. Jocelyn Kuritsky plays the silent role of the remembered missing girl in one scene.
Still, though what happened to Jessica, Kat, and Bethany as children is interesting and awful, what's happening to them as adults is rather dull. Kat accuses Jessica of milking her tragedy; both women roll their eyes at Bethany's beliefs; all three ponder what it means to be safe. And so on. Director David Epstein should have pulled the trio in a little: The emotional moments would work better a little smaller. Ludwig does well in a thankless role.
Despite some funny lines here and there, particularly about Northern California sensitivity, "Fault Lines" is fairly flat. Although it runs only one hour, its preaching overstays its welcome.
Presented by Invisible City Theater Company at the Abingdon Theatre Arts Complex's Dorothy Strelsin Theatre, 312 W. 36th St., NYC. Dec. 9–19. Tue.–Sat., 8 p.m.; Sat. and Sun., 3 p.m. (212) 352-3101, (866) 811-4111, or www.theatermania.com.