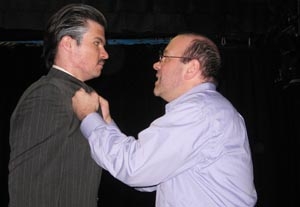 Terence Patrick Hughes' script certainly isn't to blame for the dismal production of his
Finding the Rooster
, currently crowing at 13th Street Repertory Company. The blame is entirely that of director Terence Patrick Hughes, who is incapable of eliciting a single professional performance from his quintet of actors.
As a script,
Rooster
has a chance of being an effective drawing-room comedy sprinkled with magic realism: The wealthy Evelyn (Kathryn Neville Browne) and Richard (Jonathan Harper Schlieman) are fighting over their pending divorce and the disassembly of their sole remaining son, Oscar (Dave Benger). In between bouts, interloper Stoker (Reggie Oldham) dismembers Oscar one limb at a time under Richard's orders, in preparation for reassembly in the form of a better son.
Unfortunately, Evelyn and her self-aggrandizing brother Pinkie (Kevin Hauver) are alcoholics, and Hughes and company have a high schooler's sense of what alcoholism entails. Everyone makes a big show of slugging water like it was vodka—despite an earlier reference to Scotch being Evelyn's drink of choice—and constantly wanders over to the flimsy bar for a refill while debating the costs of war and the importance of
Catcher in the Rye
and
Huckleberry Finn
.
Salinger gets name-dropped with annoying frequency, given the 1965 setting. But the only other concessions to the period are long monologues from Pinkie about winning World War II by finding the rooster in any given village and killing it before it could crow (apparently, Europe had only one rooster per village), and Evelyn's elbow-length black gloves. As the play jerks along in fits and starts, the offstage violence escalates, and Oscar is dragged about in a trashcan, rising above the loss of his legs and an arm to wax rhapsodically over Salinger's loathsome adolescent Holden Caulfield. What could have been a witty take on the senselessness of war becomes a muddled bore, effectively turning this
Rooster
into a hen.
Presented by and at the Thirteenth Street Repertory Company
,
50 W. 13th St
.,
NYC
.
May 8
–
June 7. Fri. and Sat
.,
7 p.m
.;
Sun
.,
3:30 p.m
.(
212
)
352-3101
, (
866
)
811-4111, or www.theatermania.com
.