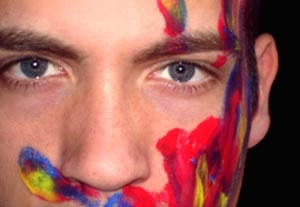 Despite its juvenile title, "Finger Paint" is a marvelous work of theatrical brio. Tapping the talents of its four audacious young actors, one of whom co-wrote it, the play tackles subjects such as love, sex, and art without sentimentality. Instead, it uses humor and a surprising depth of feeling as a springboard for its contention that life, like art, is a "series of happy accidents" that's often "much better in the abstract."
The 90-minute play is essentially a theatrical dialogue between Ann (Erin Austin) and her roommate Ryan (Nicholas Cobey), a painter who's moving out the next day. One wall in the apartment they shared has become a literal expression of their friendship: The two painted anytime they felt "dangerous, inspired, or like shit." Early on they point out how each part of the wall reflects a memory. The title comes from Ryan's preference to paint with his hands, without brushes, a technique Ann adopts.
The play flashes back and forward in time, touching on Ann's complicated relationship with Jacob (Anthony Comis), Ryan's affairs with a large number of very different women (all played by Ariana Shore), as well as Ann's unrequited love for Ryan. Ann pushes Ryan to "finish the wall," as if adding another layer will allow them both to move on with their lives.
Though the ending isn't as punchy as it could be, "Finger Paint" is a pleasure to watch thanks to Ross Evans' tight direction. Austin (who co-wrote with Evans) and Cobey demonstrate terrific chemistry. Comis is solid as Ann's love interest, but Shore really excels in her portrayals of Ryan's many lovers, acting as a sparkplug for every moment she's on stage.
Presented by Plastic Flamingo Theatre Company as part of the New York International Fringe Festival at Here Arts Center, 145 Sixth Ave
.,
NYC
. 
Aug. 15
–
25. Remaining performances
:
Sat
.,
Aug. 22, 3:15 p.m
.;
Tue
.,
Aug. 25, 6 p.m
. (
866
)
468-7619 or www.fringenyc.org
.