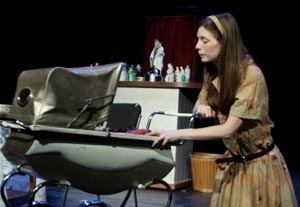 The title of Erin Austin's charmingly off-center, highly original look at three generations of women is at least a triple pun. Grandma was not a fit mother, daughter was fit to be tied until she left home in Glasgow and went to America, and California-born granddaughter is determined to the point of bulimia to stop being fat and get fit.
The trio (Lauren Connolly, Harmony Stempel, and Molly Stoller, respectively) are all aged 20 when we see them and mostly do not interact with each other. But thanks to a high level of acting (which includes the three men in their lives, played by Elliot Crown, Anthony Comis, and Alex Kaplan) and compassionate direction by Ross Evans, we are involved in this Scottish multigenerational story for the full 90 minutes, ultimately touched by it. The proceedings are nicely underpinned by a string trio—cello (Susan Mandel), violin (Josh Henderson), and guitar (Jonathan Cody White, who is also the musical director and orchestrator)—playing traditional Scottish songs.
Presented by Plastic Flamingo Theatre Company as part of the New York International Fringe Festival at the Clemente Soto Vélez Cultural Center's Teatro Latea, 107 Suffolk St., NYC. Aug. 17–27. Remaining performances: Thu., Aug. 18, 6:15 p.m.; Fri., Aug. 19, 9:15 p.m.; Thu., Aug. 25, 2 p.m.; Sat., Aug. 27, 9:30 p.m. (866) 468-7619 or www.fringenyc.org.