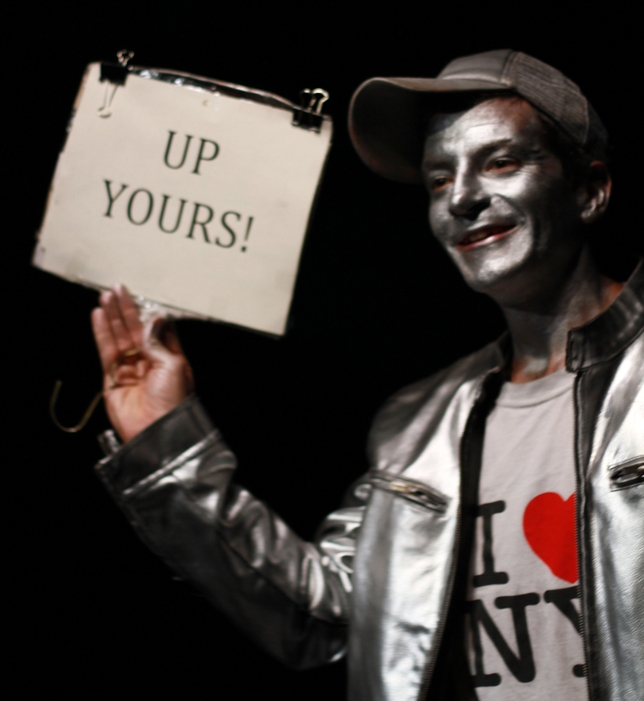 For the past seven years Tim Intravia has painted his face silver and stood like a statue in Times Square, occasionally moving like a robot. This is how he makes a living. He is also a member of Actors' Equity Association who has performed Off-Broadway, in movies, and on television, and he is a writer who has penned career advice for actors in the pages of this publication.
Out of these skills and experiences he has fashioned "From Busk Till Dawn: The Life of an NYC Street Performer." During the course of the 50-minute solo show, he flips through the signs he has fashioned to tell off passersby who photograph him but don't leave a tip. He mimics one of his fellow street performers, the Naked Cowboy. He talks with a trash can. He recounts a deal for a movie about his nonbusking life, speculating at length whether the screenwriter is gay. He imagines his headstone reading "Here lies Tim Intravia. He was a statue. Now he's a stiff." Ultimately, while a good deal of this is entertaining, too much of the show feels like filler.
Self-presented as part of the New York International Fringe Festival at the Gene Frankel Theatre, 24 Bond St., NYC. Aug. 11–25. Remaining performances: Sun., Aug. 19, 9:45 p.m.; Fri., Aug. 24, 5 p.m.; Sat., Aug. 25, 4 p.m. (866) 468-7619 or www.fringenyc.org.
Critic's score: B-