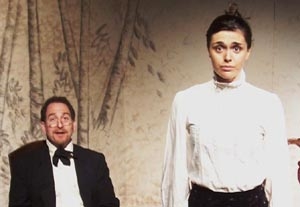 Five members of the WorkShop Theater Company have adapted five Chekhov short stories into one-act plays in
From Russia With Angst
. Unfortunately, the short length of each hampers the subtlety and nuance for which Chekhov is renowned.
The show gets off to a rocky start with a surreal marriage between Chekhovian minimalism and a stylized plot about government-sponsored torture in Jonathan Pereira's
Death of a Government Worker
. Every time Ivan (James Davies) tries to ask Mr. Breeze (Stephen Girasuolo) for a raise, he sneezes on his employer. Stylized and flat, the play is utterly unconvincing—particularly Davies' sneezing attacks.
Things aren't much better in
We'll Take a Cup of Kindness Yet
, set in Manhattan on New Year's Eve. The driver of a horse-drawn carriage (Michael Gnat) keeps bringing up his recently deceased son into conversation with his fares, to their understandable annoyance. Scott C. Sickles has written some moving dialogue, but under David Gautschy's direction, most of the play feels self-conscious and strained. Likewise for Robert Strozier's modernized
Joy
, a flat-footed story about a teenager (Sutton Crawford) who is thrilled to discover that a YouTube video of her singing, drunk and shirtless, has already had over 100 hits, while her sitcom-ready parents (Joseph Franchini and Carrie Edel Isaacman) are alternately appalled and proud.
Thankfully, the second act brings us
In Country
, the evening's one wholly successful entry. Blessed with a tight, taut script from Timothy Scott Harris and an excellent trio of actors, the play retains the melancholy of Chekhov without sacrificing modernity. Over an awkward dinner of pizza and beer, Dad (an excellent Noah Keen) finds his calcified notions of masculinity and honor challenged by his angry daughter (Dee Dee Friedman) and the father of a dead war hero (Jed Dickson). The play's final moment is a heartbreaker, as it slowly dawns on Dad that the world he knew has become obsolete.
Unfortunately,
In Country
is followed by
Misery, Apathy and Despair
, a tedious satire of Chekhov plays—something done a few months ago by playwright David Johnston in the superior
Play Russia
. Shrill and unfunny,
Misery, Apathy and Despair
is aptly named.
Presented by and at WorkShop Theater Company, 312 W. 36th St
.,
NYC. June 11
–
27. Wed
.–
Sat
.,
8 p.m
. (
Additional performance Mon
.,
June 15, 7 p.m
.) (
212
)
352-3101
, (
866
)
811-4111, or www.theatermania.com
.