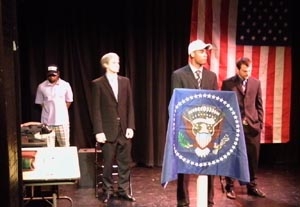 Even Michele Bachmann probably knows that no president of the United States can serve a full third term, even nonconsecutively. It's in the Constitution. You can look it up. So it's more than a bit surprising that playwright (and producer) Joe Beck has allowed a seeming subplot involving such a third term to take over his ostensible farce about the country's energy crisis. According to the advance word from both the Midtown International Theatre Festival and the production, this 75-minute piece was to be about President Obama asking former presidents Clinton and Bush to co-convene an energy summit, specifically to find ways to limit America's dependence on foreign oil. The setup was to be a satire, with the three chief executives' foibles and first ladies on hand for comedy substance. And the show starts promisingly enough, with Obama announcing the summit from an oil-drilling platform in the Gulf of Mexico off the Louisiana coast. ("Drill, baby, drill" has seemingly won out as U.S. policy, at least temporarily.) Obama then sends his predecessors off to Bush's ranch in Crawford, Texas, for the actual summit, while he takes up his tee time in Baton Rouge. Yes, even the Obama jokes seem dated in this season of debt ceiling.
Michelle Obama (Julia Kwamya), in a parallel press conference, touts healthy eating and exercise but soon allows that she wants a second term so that she and her daughters can see more of the world. Hillary Clinton (Almog Pail), depicted as a consummate spotlight grabber, wants at least to be vice president this time; no lateral moves or going home to Bill for her. Laura Bush (Lindsay Bernstein) puts forth her best steel-magnolia aspect, complete with frozen smile. The women are well cast but too soon disappear as first ladies, re-emerging as two security guards and an itinerant immigrant. Suddenly the text takes a sharp turn and becomes a tale of George W. Bush using the oil summit as a launching pad for an avenging third term as president. Director Terrence Montgomery can do little to rein in this runaway plot, and perhaps the piece was somewhat reshaped in rehearsal because Patrick Murney, who plays Bush, is the best actor in the bunch of eight. ("Fuel" is a world premiere and a late addition to the festival schedule.) Murney also offers the one amusing device in the play, with the help of a tiny action figure of Ronald Reagan, which Murney manipulates and mouths. The bit is reprised just a bit too often.
Bush's too-long-familiar psychology (spoiled mama's boy trying to please Poppy and finish the job of getting Saddam Hussein, etc.) is also played out over and over, complete with an onstage psychiatrist (Tom Watson) and a pistol-packin' mama (Lily Cohen). This all reduces Bill Clinton (Charles Uffelman) and Barack Obama (Michael Blair, who also disappears into security guardianship) to supporting status, which seems unfair to both actors and characters. Yes, "fuel" can mean more than one thing, but pun or not, do we really need a reliving of the W. pathology so soon and so humorlessly?
Presented by Joe Beck as part of the Midtown International Theatre Festival at the June Havoc Theatre, 312 W. 36th St., 1st floor, NYC. July 11–23. Remaining performances: Wed., July 13, 6:30 p.m.; Thu., July 14, 8 p.m.; Sat., July 16, 8:30 p.m.; Tue., July 19, 6:30 p.m.; Sat., July 23, 6:30 p.m. (212) 352-3101, (866) 811-4111, or www.midtownfestival.org.