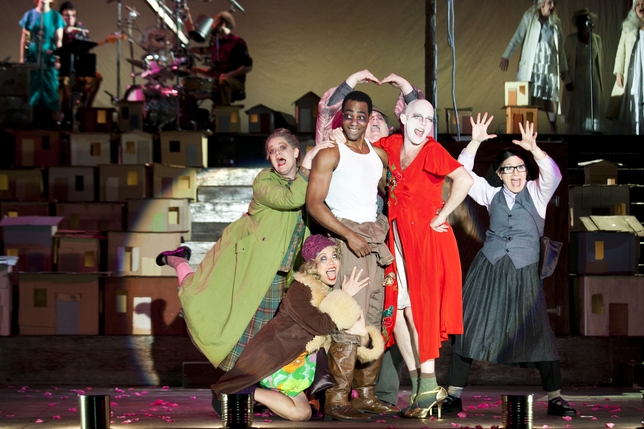 Given Bertolt Brecht's affection for the "lowbrow" art forms of Weimar Germany, especially the gender-bending and darkly comic musical styles of the cabaret, it's no surprise that a small horde of New York City's downtown glitterati should feed a revival of Brecht's spirit. The Foundry Theatre's new production of "Good Person of Szechwan," directed by Lear deBessonet, feels a bit like the 1987 classic "A Muppet Family Christmas"—the one where all of Jim Henson's creations, from the cast of "Sesame Street" to the players of "Fraggle Rock," converge on Fozzie Bear's house for the holidays. There can't possibly be enough room to fit everybody, yet somehow it works out.
The stage of La MaMa's Ellen Stewart Theatre has been filled with Broadway stalwarts (David Turner, Annie Golden), a Shakespearean crooner (Clifton Duncan), a queer playwright and solo performer (Lisa Kron), an edgy indie band (the Lisps), an army of much-lauded and genre-flexible designers, and New York's reigning gypsy flower child, Taylor Mac. They have smashed together a hodgepodge of styles, from musical to slapstick to camp to romantic comedy, to pull off one of Brecht's more convoluted plots. Thankfully, costume designer Clint Ramos has gone for an any-old-thing-off-the-rack look, and set designer Matt Saunders has kept his stage effects simple and his strings showing. In other words, they make magic out of their mess.
Mac, unexpectedly, is the show's straight man. He brings empathy and seriousness of purpose to Shen Tei, the titular "good woman" forced to play a heartless businessman to survive (think RuPaul meets Marx). By turns devastatingly fragile and imposingly fierce, he follows capitalism's moral tragedy with a martyr's zeal. And when he sings Shen Tei's arias—with music by César Alvarez, who can pastiche Weimar ballads as effortlessly as doo-wop—Mac and his resounding voice are mesmerizing. I'd be first in line for his Kurt Weill songbook.
Mac's precision lets the rest of the cast clown without fear of sinking the ship. Kron steals each of her scenes as a manipulative landlord and an even more manipulative Jewish mother. Brooke Ishibashi, as a wench who won't leave Shen Tei alone, gives the ensemble its pulse as a first-order physical comedian. Golden, Vinie Burrows, and Mia Katigbak, who have likely logged more collective stage time than the cast of "Newsies," preside sagely over the proceedings as Szechwan's resident deities. Turner, as a narrator-tramp who plays witness to Shen Tei's goodness, holds onto his confident, innocent charm despite the story's darker turns. If Mac is the production's soul, Turner is its conscience.
This mostly revelatory "Good Person of Szechwan" is not without its flaws. DeBessonet's slow and steady pacing is not always a match for Brecht's protracted script, which can feel like a long setup to its final confrontation scene. But she and her cast and crew manage to wipe the didactic dust off this "classic" playwright, and one hopes that a new mode of American Brecht productions is born from their successes.
Presented by and at La MaMa E.T.C., 66 E. Fourth St., NYC. Feb. 6–24. (212) 352-3101, (866) 811-4111, (212) 475-7710, www.theatermania.com, or www.lamama.org. Casting by Kelly Gillespie.
Critic's Score: A-