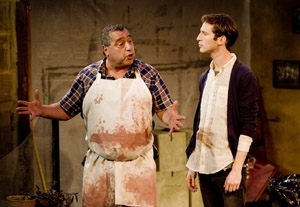 Two props are the centerpieces of Irish author Belinda McKeon's 50-minute play: an Italian drum used in the tarantella and a shiny silver meat cleaver. Both become weapons of imminent destruction in this underwritten contemporary melodrama, set in what remains of an old-style Italian restaurant, about to be reborn as a gentrified eating place, in the Williamsburg section of Brooklyn, N.Y. Unfortunately, what McKeon serves up is only half-baked.
Into this wreck of a restaurant (at the intersection of Graham and Frost streets, hence the title) comes supercilious, all-knowing Sam (Dan Shaked), who has come to apply for a job as chef in response to an advertisement on Craigslist. He immediately notices the drum hanging on a wall and takes it down. Enter Benny (Steven Randazzo), an old friend of the late owner, wearing a bloodied butcher's apron and carrying the meat cleaver. Benny is very much a dems-and-dohs guy who wants the neighborhood and the restaurant to remain as they were. Benny and Sam are almost immediately at cross purposes, relieved only when Luca (Enrico Ciotti), who has inherited the enterprise, arrives to break them up.
What we then have is a three-men-in-a-room play, each character having a stake in the outcome. McKeon focuses on the interplay among the men, employing the hoary device that each has a secret. The aforesaid props take center stage in the inevitable revelations of these secrets, which cause awkward shifts in tone. Ultimately, the play and the characters' motivations stay underdeveloped, as if this were the appetizer for a meal yet to be served.
Under the direction of Thomas G. Waites, the three performers struggle to bring conviction to their utterances, with Ciotti being the most persuasive. It is, however, left to the drum and the meat cleaver to deliver the most potent performances.
Presented by the Sullivan Project in association with Alycia Aumuller, Maedhbh McCullagh, and Todd Miller and Williston Productions as part of the First Irish Theatre Festival at Performance Space 122, 150 First Ave., NYC. Sept. 18–Oct. 3. Wed.–Sat., 7 p.m.; Sat. and Sun., 1 p.m. (No performance Sat., Oct. 2, 1 p.m.) (212) 352-3101, (866) 811-4111, or www.ps122.org. Casting by Alycia Aumuller.