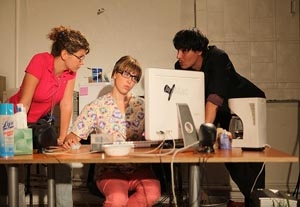 As "Greendale, G.P." unfolded, I began to wonder if playwright Brad Saville is an admirer of Elmer Rice and Sidney S. Kingsley, who invented this genre of day-in-the-life social realism with such plays as Rice's 1929 "Street Scene" and 1931 "Counsellor-at-Law" and Kingsley's 1933 Broadway debut, "Men in White," and 1935 "Dead End." Both men often directed their own work, as Saville has done here. But they were doing something new. Despite his obvious talent, Saville is just reinventing the wheel.
"Greendale, G.P." looks at the events in the office of three doctors with a general practice in small-town Ohio over the course of about 20 hours. Saville starts with a dumb show: As the audience files in, cast members are on stage miming various actions such as being examined, anxiously sitting in the waiting room, entering data into a computer, etc. It suggests a more transgressive play than the one that follows, which begins in midafternoon on a slow day. We meet doctors Sean Fenton, Kevin Cates, and Ariel Whitaker and watch them interact with patients and each other. Strands of plot include the infidelity of Cates' wife with an 18-year-old student of hers and Whitaker's possible casting in a TV reality show about doctors. We see the doctors' lack of concern for their patients, whom they refer to as "customers," and their obsession with power and wealth. Racist, sexist, and homophobic attitudes are casually bandied about. Domestic violence rears its head. It's not a pretty picture, but it's not particularly "hard-hitting" or "satirical" (as the press release promises) enough to be compelling.
The performances of the 12-member cast range from uneven to spot-on. Best is Anne Fidler as Colleen, the take-no-prisoners office manager (don't call her a receptionist). Colleen is probably Saville's best creation, and Fidler expertly realizes her with equal parts razor-sharp satire and telling character detail. David Marcus manages to give the smarmy Hollywood producer an appealingly idiosyncratic spin, and Tyler Foltz does well as a hapless teenage intern anxious to get into medical school. On the downside, Amber Bogdewiecz is too obviously phony as the would-be-sexy doctor who longs for her 15 minutes of fame, and William Apps and Penny Bittone play their hypermasculine, emotionally dead doctors too blankly.
Saville might have done better to collaborate with a director, who could provide him with another set of eyes and possibly push his writing to more-interesting and provocative places. The 29-year-old's bio indicates he's a novelist and filmmaker as well as a playwright and is chock full of credits dating back to 2003. That's admirable. Nevertheless, the problem with "Greendale, G.P." is that it lacks an animating purpose. A little less prolificacy and a little more reflection about what to write about might produce the breakthrough work Saville likely has in him.
Presented by Eastwind Theatre Companyat the Access Theatre, 380 Broadway, NYC
.
Aug. 27
–
Sept. 13. Thu
.–
Sun
.,
8 p.m
. (
Additional performance Sat
.,
Aug. 29, 2 p.m
.)(
212
)
352-3101
, (
866
)
811-4111, or www.theatermania.com
.