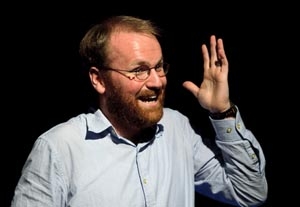 In "Greenland," playwright Nicholas Billon is inspired by the recent discovery of an island off the coast of Greenland to imagine the story of the man who discovered it and his family.
One by one, three characters address the audience in monologues. Tanya (Susan Heyward) tells us funny facts about Greenland that she has learned for a school report; we also eventually learn about the death of her twin brother. Jonathan (Andrew Musselman), her uncle and adoptive father, explains his fascination with ice and hints at his distance from his family. Judith (Claire Calnan) makes clear the unhappiness of her marriage to Jonathan.
Though only an hour long, the story unfolds slowly, and the family's sadness is presented subtly, without sentimentality—indeed, with plenty of humor. There is an adroit use of metaphors involving Greenland and the island off its coast, which was discovered because climate change has melted the ice that kept it secret. 
Presented by the Bridge Theatre Company as part of the New York International Fringe Festival at the Players Theatre, 115 MacDougal St., NYC. Aug. 12–18. Remaining performances: Sun., Aug. 14, 7 p.m.; Wed., Aug. 17, 5:15 p.m.; Thurs., Aug. 18, 3:15 p.m.; Fri., Aug. 19, 10 p.m. (866) 468-7619 or www.fringenyc.org.