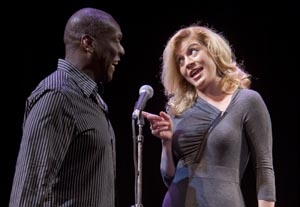 "Greenwood" does everything right; it just doesn't do it very well. Tor Hyams' and Adam LeBow's musical presents a large array of contemporary characters (double-cast in younger and older versions—it's a crowded stage), most with plausible backstories and singable emotions, puts them in an environment where song and dance come naturally, and resolves their conflicts in time for a none-too-soon curtain. There's a sturdy theme: connecting one's happier past with the present, and using it to engineer a more fulfilling future. The plot arcs all bend as they should, the big power ballads occur when you'd expect, there's no lack of craft. What's lacking is excitement, eccentricity, surprise—something to make us sit up and take notice.
Sheila (a terrific looking and sounding Andrea McArdle), is married, well-off, and settled outside Chicago, but dissatisfied with her lot and doesn't know why. She keeps dwelling on the best time of her life, at the theater summer camp of the title, 25 years ago. So she tracks her campmates down on Facebook and organizes a reunion at the camp, still run by the owner's geeky son, Ronald (Jayden Lund). Those campmates include leading lady Zoe (Mary Mossberg), who's still mooning over her abortive romance with leading man Alex (Cary Shields), now an unsuccessful actor in L.A.; Jessie (Katy Blake), who was briefly a kid actor on Broadway and has done nothing on stage since; Paul (Gerry McIntyre), a content stay-at-home dad; Jeff (Patrick Boyd), whose gayness is his only character trait; and Daniel (Daniel Blinkoff), who had an unspecified breakdown and works for Ronald. We intercut between the high school drama-club campers of the mid-'80s and their current selves, all of whom sing and sing about their feelings.
The songs don't advance plot, but they sure chronicle joy, despair, lack of fulfillment, whatever. A couple land on the mark. There's a sweet teens-in-love ballad where practically every other word is "like." The second act features a fun, just-for-the-hell-of-it ensemble where the reunited campers don costumes from other musicals and urge us to "Do a Musical." Suddenly they can relax and enjoy, and so can we. But generally, the score is too busy shouting how everybody feels to really breathe and soar.
Like the 2003 movie "Camp," "Greenwood" is certainly a celebration of teenage drama geeks and what propels them; it even implies that Alex, whose adult self is contemplating quitting acting and accepting a steady corporate gig, is morally bankrupt for doing so. (Perhaps he just likes to earn enough to eat.) The kids are talented and fun to watch, even executing Paul Stancato's choreography, which—well, it's summer camp, maybe it's supposed to be this clunky. Their grownup versions, staggering under the weight of their various midlife crises, are a little more trying.
Final observation: The sound system wasn't working perfectly at the performance attended, and whenever a mike went out, the lyrics were suddenly clear and easy to understand. When it came back on, they weren't. There's a lesson there.
Presented by Bunk 2 as part of the New York Musical Theatre Festival at the Signature Theatre Company's Peter Norton Space, 555 W. 42nd St., NYC. Oct. 8-16. Remaining performances: Wed., Oct. 12, 5 p.m.; Sat., Oct. 15, 1 and 5 p.m.; Sun., Oct. 16, 5 p.m. (212) 352-3101, (866) 811-4111, www.theatermania.com, or www.nymf.org. Casting by Wojcik/Seay Casting.