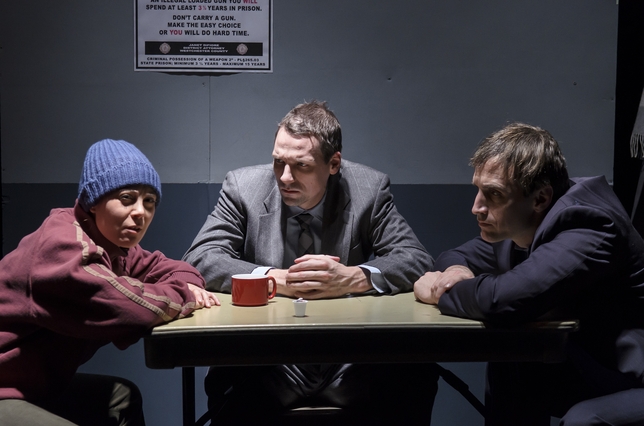 Scene: Three red pandas perch themselves in triumph on the stage of the theater at St. Mark's Church-in-the-Bowery. With promises of doom for all mankind, they join their voices for a magnificent whooping shriek.
"Grimly Handsome," writer-director Julia Jarcho's elegant jumble of a play, works very hard to prepare for this strange moment. Jarcho splits her story of Christmas, murder, and wildlife into three parts, with an excellent cast of three shifting among multiple roles, but when these somewhat related low-key narratives culminate (kind of), Jarcho doesn't fully succeed in building the transcendent absurdity she's probably after. Performers Ben Williams, Pete Simpson, and Jenny Seastone Stern, however, do succeed, consistently invigorating the material, creating sharply defined characters, and generating lots of deadpan laughs.
Part 1 follows Alesh and Gregor, two Slavic-born Christmas-tree salesmen who have set up shop in the New York area for the holiday season. Their subdued discussions about women and life in their home village eventually reveal a more sinister motive involving a bookworm customer named Natalia. Williams and Simpson undertake Alesh and Gregor's zigzagging discourse with much care, employing plain, unaccented English whenever the two are speaking in their unspecified native tongue but affecting heavy dialects when they are meant to be speaking broken English to Natalia. It's a neat trick that pays off as the suspense builds, and Stern expertly plays Natalia's bewilderment during these bilingual situations.
Part 2 jumps to a pair of police detectives (Williams and Simpson again) investigating a murder in the same community that was perpetrated by the so-called "Christmas Ripper." Williams and Simpson excel especially here, alternating with ease between affected police jargon and strained locker-room bro talk. Unquestionably the strongest part of the play, this procedural section is surprisingly traditional, even if Jarcho has a little fun convoluting notions of which actor is playing which character and when. The detectives' first lead in the case is Nally (Stern), a jumpy man who partially witnessed the murder. Meanwhile, one of the detectives is sleeping with the other's wife, Nelly (also Stern). By the time we reach the end of the sequence, the precise characteristics that Stern uses to distinguish between Nelly and Nally begin to blur.
Which brings us back to the pandas. Throughout the first two parts we have heard casual references to small woodland creatures scuttling around the edges of the tale, and in Part 3 they reveal themselves as a group of talking red pandas, which are curious little arboreal mammals unrelated to regular pandas. Costume designer Ásta Bennie Hostetter outfits the actors in delightful critter costumes complete with long, bushy tails. Simpson's swaggering panda, Grox, has his charms, but the unified momentum and subdued wit that Jarcho's confident staging has previously established completely evaporate in this final segment, devolving into full-tilt silliness.
The biggest shame of the unfortunate ending is that Jarcho has the pandas devour some of the intriguing characters they played earlier. It's as if they're gobbling up the play's unfulfilled potential.
Presented by Incubator Arts Project as part of Other Forces 2013 at St. Mark's Church-in-the-Bowery, 131 E. 10th St., NYC. Jan. 3–20. (212) 352-3101, (866) 811-4111, www.theatermania.com, or www.incubatorarts.org.
Critic's Score: B-