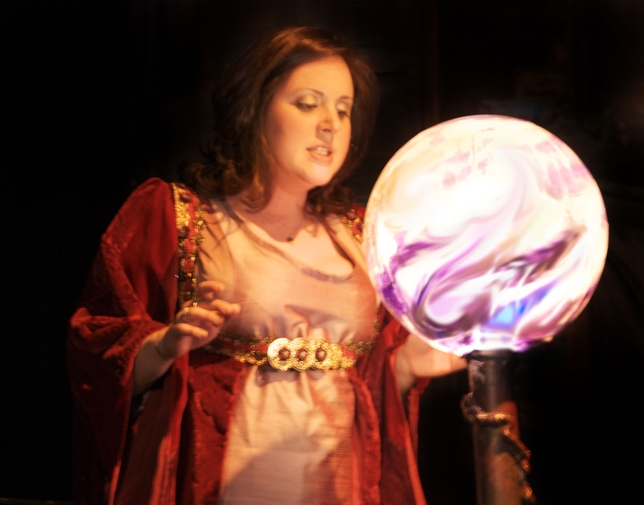 Mashing up "Rumpelstiltskin" and "Hansel and Gretel," composer-lyricist Ken Kruper's "Grimm" is a junior league "Into the Woods." Despite occasional theatrical flourishes, this 50-minute foray into folk tales is likely to appeal mainly to tykes. Its references to parenting and forbearance don't muster the sophistication necessary for a longer shelf life.
Unhelpful is the unintelligibility of the lyrics, thanks to a zealous sound system that elicited a number of overheard audience complaints. The eager cast features old-college-try ensemble performances. More accomplished are Gina Cucci and Theresa Burns, as rival sisters; Jake Bridges, as a Faustian meddler; Kathleen Foster, as a factotum; and Sierra Marcks, as a dignified Gretel. Best of all is Grant Bowen, as a plucky Hansel, who socks across one of the best songs, "My Sister, the Queen." Olivia Hartle's direction gives truth to a line from the show: "Things are looking awfully grim."
Presented by Big Theatre Company as part of the New York International Fringe Festival atHereArtsCenter,145 Sixth Ave., NYC, Aug. 11–22. Remaining performances: Thu., Aug. 16, 5:15 p.m.; Fri., Aug. 17, 4 p.m.; Wed., Aug. 22, 2 p.m. (866) 468-7619 or www.fringenyc.org.
Critic's Score: C-