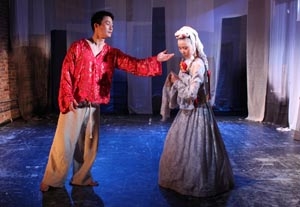 Nearly 35 years after Minsoo Ahn's Korean version of William Shakespeare's "Hamlet" debuted at La MaMa in 1977, his son, the Korean-American theater artist Byungkoo Ahn, has written and staged an elegant if wearying reinterpretation of his father's work called "Hamyul/Hamlet." Performed in Korean and accompanied by supertitles that are only occasionally readable, the younger Ahn's often gracefully marshaled production includes flourishes of whirling Korean court dance, choreographed by Sen Hea Ha, vibrant costuming by Leon Wiebers, and twangy strummed music by Ok Kyun Kang.
Prince Hamyul, though sometimes given a moaning intensity by Young Kun Song, keeps his mouth shut more than the Danish chatterbox we're accustomed to, and he is far more eager to take his revenge. It helps to go in with a general idea of Shakespeare's story, because the supertitles speed through large chunks of text quickly and are even totally obscured by a tapestry in one scene. The story's key elements remain in place: the widowed mother, Gertrude; the fratricidal uncle-cum-stepfather, Claudius; and the melancholia, slings, and arrows, but gone are Horatio, Rosencrantz, Guildenstern, the gravediggers, and the antic disposition.
What remains is a swift, supernaturally flavored revenge tale set in ancient Korea, a period and region fittingly dominated by shamanism and a sense of familial honor. And while it perhaps shows my cultural bias, I found myself longing throughout for more of Shakespeare's matter and less of Ahn's unquestionably well-poised but sometimes tedious art. For instance, after being visited by the spirit of his father, an imposing crimson-cloaked wraith played by Ilkyu Park, Hamyul delivers the "host of heaven" soliloquy and follows it with an exuberant dance involving a long cloth. It's a well-executed piece, but like all the other endless dance interludes in "Hamyul/Hamlet," it interrupts the narrative rather than enhances it. Park plays the austere Claudius as well, in addition to choreographing the disciplined but ultimately tame swordplay.
Song brings crackling wrath to Hamlet's confrontation with Gertrude, who is conservatively played by Youn Jung Kim, and generates much soulful glowering throughout, but ultimately he cannot set right the pacing of this out-of-joint production.
Presented by La MaMa ETC, in association with Mays Entertainment, at La MaMa ETC, 74A E. Fourth St., NYC. June 26–July 10. Thu.–Sat., 7:30 p.m., Sun., 2:30 p.m. (212) 475-7710 or www.lamama.org.