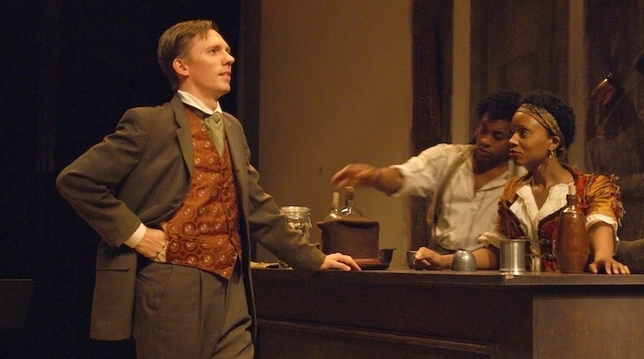 The Civil War draft riots aren't exactly the first historical event you might think of when seeking the basis for a musical. In 1863, when the conflict was at its peak, President Abraham Lincoln called for mandatory conscription to replenish the Union ranks. In New York City, mobs of mostly Irish immigrants went on a rampage, attacking African-Americans because they saw them as the cause of the war. Playwright-composer Larry Kirwan, of the New York-based Irish rock group Black 47, has simmered this soon-to-boil situation, stirred in the period tunes of Stephen Foster (as well as the man himself as a character, played by Jed Peterson), sprinkled in some romance and melodrama, and come up with "Hard Times," a spirited but unfocused tuner presented as part of the 1st Irish Festival.
The show starts with a big, defiant bang as Owen Duignan (John Charles McLaughlin), an Irish immigrant entertainer in blackface, launches into a snarky rendition of Foster's "Camptown Races" that has been augmented with Kirwan's sharp new lyrics describing the powderkeg relations between the "Paddies" and the free blacks of the city. Duignan works in the tavern owned by Nelly Blythe (Almeria Campbell), a free African-American widow of an Irishman, in the notorious Five Points section of Manhattan. (In this free-wheeling neighborhood, interracial cohabitation and marriage was tolerated.) Seated in a corner is Foster himself, down on his luck and striving to finish a new song despite one too many shots of whiskey. He's evidently had a brief gay affair with Owen, adding to the tension.
Also in the mix are Michael Jenkins (Philip Callen), a boastful ward boss who is in love with Nelly despite his racist attitudes, and Thomas Jefferson (Stephane Duret)—not the third president, but an African-American dancer whose sole dramatic purpose is to provide a reason for Owen and Michael to express their anti-black sentiments. All five are trapped in the bar as the riots rage outside. This is the main plot impetus, but waiting for violence to end is not a strong enough engine to drive a full-length tuner. There is a sixth character, Foster's wife Jane (Erin West), who appears in two flashbacks; her presence is largely expositional.
Fortunately, director Kira Simring keeps the action moving and makes intriguing use of the small Cell Theatre space. Choreographer Joe Barros delivers robust dancing based on Irish and African-American traditions, and music director Andrew Smithson gives vibrancy and power to the score, which combines Foster's classic Americana with Kirwan's modern sensibilities.
The small cast infuses their roles with intensity and detail as well as musical muscle. Almeria Campbell is a steely and determined Nelly, countered by Philip Callen's appropriately blustery bull-in-a-china-shop Jenkins. John Charles McLaughlin and Stephane Duret dance with ferocity as Owen and Thomas. Despite a weak singing voice, Jed Peterson vividly expresses Foster's sexual and professional conflicts. Erin West has a lovely vocal quality, but she's largely wasted as Jane.
"Hard Times" has some fun, even exciting elements, but they don't add up to a insightful look at a significant moment in American history.
Presented by The Cell as part of the 1st Irish 2012 Festival at The Cell, 338 W. 23rd St., NYC. Sept. 15–30. (800) 838-3006 or www.thecelltheatre.org. Casting by Jason Najjoum.
Critic's Score: B-