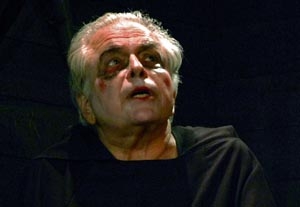 Visiting New Jersey for a conference, romantically involved professional bloggers Moses (Jason Blaine) and Lucy (Diana Cherkas) stop at the Dunn family's haunted-house attraction to relive Lucy's childhood memories in Daniel Roberts'
Haunted House
. Unfortunately for them, the Dunns are every bit as mysterious, spooky, and altogether ooky as their attraction. Dressed and made up as one of the ghouls, Cy (Jordan Charney) struts and preens around his backyard like a summer stock version of Vincent Price. His stepdaughter Wendy (Meghan Miller) thumps her Bible between bitchy comments, and his slow-witted son Peter (Jason Altman) has the lumbering gait and vacant grin of a sociopath.
Unable to decide on one plot, Roberts has blithely tossed every idea that crossed his mind into the script. So we get a commentary on today's technology-obsessed generation, a past connection between Lucy and Peter, a missing matriarch, a faltering relationship, and the death of the Dunns' dreams—not to mention one very sordid secret relationship. Unfortunately, Roberts wasn't quite able to focus on any of the plots long enough to fully flesh it out. Director Brian Ziv attempts to cover up the play's deficiencies by keeping things moving, but perpetual motion can only accomplish so much.
Ziv lets the production down by directing Cherkas to emphasize Lucy's ditziness over her considerable intellect, turning her into an exasperating character when she should be the show's emotional center. The other performances compensate a bit. Refusing to take the proceedings seriously, Charney smartly offers up a deliciously hammy turn as Cy. Blaine sidesteps the problem of Roberts' absurd techcentric dialogue by delivering it all in a rat-a-tat monotone that makes it sound a lot better than it is. Altman is appropriately slow and slyly vicious as Peter, and Miller does well with the angry Wendy, trapped in a life she neither wants nor recognizes. But much like the Dunn family, the cast's charisma can't disguise this
Haunted
House's obvious machinations.
Presented by Audax Theatre Groupat the Irish Arts Center, 553 W. 51st St
.,
NYC
.
July 16
–
Aug. 8. Thu
.–
Sat
.,
8 p.m
.
(
212
)
864-4444 or www.smarttix.com
.