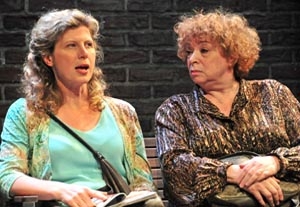 Heart and the City
has one of those scripts (from Eric Lane this time) in which several tenuously connected characters grapple with big and small issues in New York City. Unfortunately, the problem with this particular version of that ever-popular subgenre is that
Heart of the City
has six performers portraying 14 characters, which can lead to major confusion unless one pays vigilant attention to character names.
Unfortunately, that attention never really pays off for the audience. Lane's vignettes are often so abbreviated that it can feel as if more time is spent between scenes than on the characters, all of whom we've met before. There's the couple struggling with a faltering marriage (Mark Setlock and Eliza Foss), the gay European (Scott Kerns, who has sashaying down to a fine art), the snappish Brooklynite and the aging intellectual meeting cute on a subway (Marcia Jean Kurtz and Martin LaPlatney), and more plots about fathers and sons and mothers and daughters than an installment of a daytime talk show.
The actors give impeccable performances under Martha Banta's brisk direction, gamely switching from identifying accent to accent, which can lend the show the air of an actor's showcase, and rearranging the chairs that make up Bob Barnett's minimalist set. Melissa Miller and Kerns as three wildly different young women and men do a particularly fine job with their multiple roles. But Lane doesn't have anything new to say, and his minuscule scenes never let the audience become attached to any of the characters. Throwing a bunch of troubled people on a stage is no substitution for writing just one engrossing story, as
Heart of the City
proves.
Presented by Fern Kershon and Orange Thoughts Productions at the Theatre at 30th Street, 259 W. 30th St
.,
NYC. June 15
–
28. Mon
.,
Thu
.,
and Fri
.,
8 p.m
.;
Sat
.,
2 and 8 p.m
.;
Sun
.,
3 p.m
. (
212
)
864-4444 or www.smarttix.com. Casting by Stephanie Klapper Casting
.