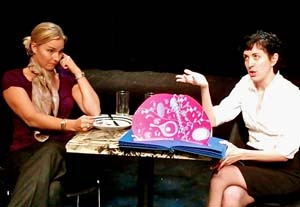 It doesn't take a gay-marriage activist to tell you that straight people are the ones who really screwed up the institution of holy matrimony. One can only assume this is the point playwright-director Lee Papa (also known as the political blogger the Rude Pundit) is making in his miserable—and gratuitously potty-mouthed—cavalcade of infidelity, monogamy anxiety, and straight-male angst, "Heterosexuals."
Attempting to provoke audiences but stultifying them instead, Papa's misogynistic tale of a married man (Jeff Kreisler) carrying on a sexual affair with his wife's friend (Elizabeth McNelis) manages to make dirty talk a complete yawnfest. Corny dialogue ("I don't mind being a vessel for your rage"), stagnant staging, and stilted acting transform titillation into tedium, as Papa unwisely has his characters ramble on about their sexual fantasies and masturbatory habits, ignoring any real sense of dramatic, er, thrust. With more schlock than shock, "Heterosexuals" simply comes off as soft-"bore" porn.
Presented by Up Top Productions in association with the Rude Pundit as part of the New York International Fringe Festival at the Cherry Pit, 155 Bank St., NYC. Aug. 17–25. Remaining performances: Sat., Aug. 21, 10 p.m.; Mon., Aug. 23, 8 p.m.; Wed., Aug. 25, 2 p.m. (866) 468-7619 or www.fringenyc.org.