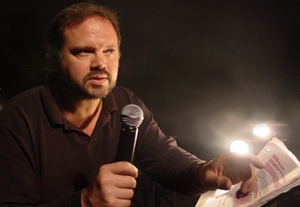 Two actors stay put at their music stands, each with a hand mic and in a discrete pool of light. They occasionally refer to the scripts before them as they enact "H.G. Wells' The Time Machine." The production—by a company with the self-explanatory name RadioTheatre, now in its seventh season—emulates, as the program notes, "the golden years of radio," and it works well for this adaptation of Wells' pioneering 1895 science fiction novella.
The script, by Dan Bianchi, follows Wells' story fairly closely; it tells of an adventurous inventor who has created a time machine that takes him into the far distant future, where things are pretty bleak. Mankind has evolved—or rather deteriorated—into two species: docile and androgynous childlike beings, known as the Eloi, and animalistic creatures, known as Morlocks. And much to the time traveler's horror, he learns that the Morlocks raise the Eloi for food. His own escape from the Morlocks—and the loss of an Eloi he has been trying to protect—provides the story's epic climax.
In Bianchi's script, the time traveler recounts his adventure to his loving wife rather than to dinner guests, as in Wells' book. It injects additional poignancy into the plot, which is heightened at the end as he embarks on another time-spanning journey, leaving his wife to wait years for his questionable return.
Bianchi, who also directed, embellishes the proceedings with a full array of sound effects and recorded orchestral background music. Wes Shippee is the sound engineer. Lighting also comes effectively into play, such as the strobe light that together with smoke accompanies the takeoff of the time machine.
Still, the show's ability to hold an audience with this static format depends first and foremost on the performance of Frank Zilinyi as the time traveler, and he gives the role a forceful reading of Orson Welles–like proportions. Excitement, wonder, and fear all vibrate in his voice with engrossing immediacy, not to mention admirable diction and baritone resonance, as he spins his tale. As the wife, Kate Siepert provides calming counterpoint.
Amid today's plethora of theatrical bells, whistles, and videos, it's reassuring to know that vocal agility and a smart yarn can still conjure up attention-grabbing theater—or at least radio theater.
Presented by Horse Trade Theater Group at the Red Room, 85 E. Fourth St., 3rd floor, NYC. Dec. 12–29. Tue.–Sat., 8 p.m.; Sun., 3 p.m. (No performances Thu.–Sun., Dec. 23–26.) (212) 868-4444 or www.smarttix.com.