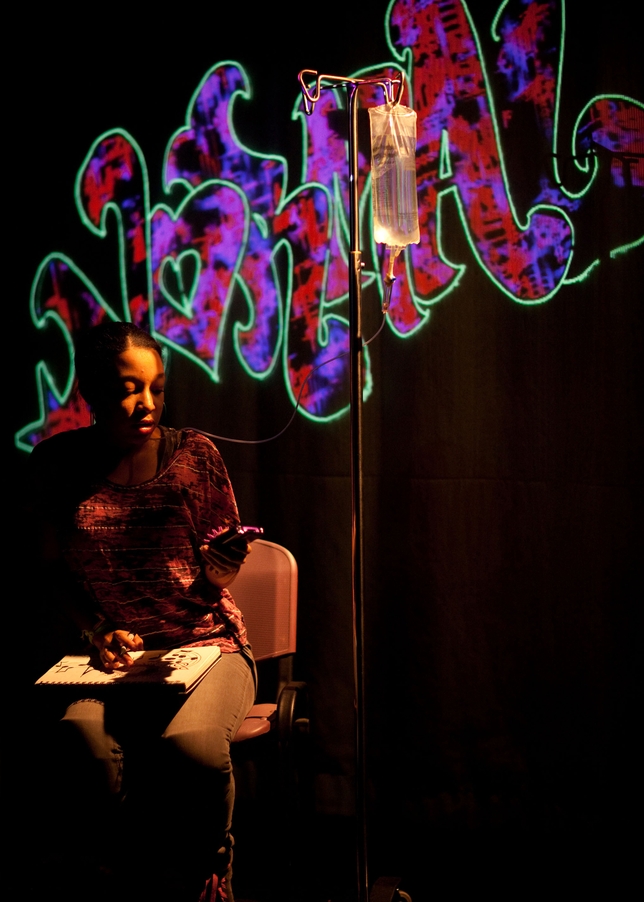 Have we lost touch with our bodies? Aaron Jafferis says we have—and hip-hop is the cure: "Hip-hop, by connecting the heartbeat of rhythm, brings poetry back to the body." This connection to the physical is never more important than when you're sick. How else can you feel like yourself when your body is not your own?
In "How to Break," playing at Here as part of the Hip-Hop Theater Festival, Jafferis brings hip-hop to the hospital in an attempt to heal ill bodies with sick beats. When 18-year-old Ana (Amber Williams) discovers that she has acute lymphoblastic leukemia, it's not the prognosis that angers her. It's the fact that she can't dance. She's a popper who's used to battling other performers; now, unable to hold her own, she lacks the will to practice her moves. But her fellow patient Joel (Pedro Morillo), a b-boy suffering from sickle cell anemia, won't let his illness stop him from performing. It's the only way he knows to reclaim his body from what's killing him.
"How to Break" has the setup of a saccharine teen love story, but Williams' and Morillo's solid performances help balance their often-syrupy dialogue. As Ana, Williams is tough but genuine, and Morillo's relentless good humor surprisingly manages to be playful rather than irritating. But both players are most impactful when they abandon words entirely and let their bodies speak instead. Thanks to expressive choreography by pioneering hip-hop team Kwikstep and Rokafella, Williams and Morillo find moments throughout the production to break from being defined by their diagnoses. Their transformation is enhanced by Yako 440's live beatbox score; his looped beats suggest the droning noises of the hospital, while his ad libs break down the earlier monotony
As any teenager knows, though, eventually adults will come along and ruin the fun. Ana and Joel's story is paralleled by another romance in the hospital, between the attending doctor, Aden (Dan Domingues), and the hospital's new artist-in-residence and yoga teacher, Maddy (Roberta Burke). Whereas Ana and Joel can use breaking to communicate, Aden and Maddy have to rely on words, and Jafferis' script fails them. They try to mimic the freestyle rhymes of their young counterparts to embarrassing effect (Aden praises Maddy, saying, "Her backbend will scare you/You wanna attempt that, I'll double-dog dare you"). Although at first this seems charming, like a parent trying to hang with the cool kids, the pair never moves beyond cliché.
The title of "How to Break" is rich with potential interpretations: our bodies' fragility, our stubborn instinct to slow down in a crisis, the act of dancing itself. But the play becomes a simplistic and trite dispute about what it really means to be cured. "Expressing yourself can be very healing," Aden tells Ana, and the audience, like a sullen teenager, collectively rolls its eyes along with her.
Presented by Here and Hop-Hop Theater Festival, in association with Collective Consciousness Theatre, at Here, 145 Sixth Ave., NYC. Oct. 18–Nov. 4. (212) 352-3101, (866) 811-4111, www.theatermania.com, or www.here.org.
Critic's Score: C