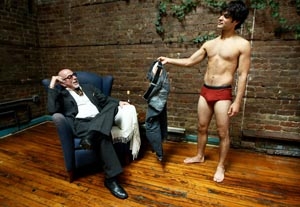 Daniel MacIvor's affecting play is "inspired by a potentially true story about playwright Tennessee Williams." Anyone who has read the accounts by Dotson Rader and Bruce Smith of Williams' end days will recognize the unflinching portrait MacIvor paints with such unsentimental understanding and tenderness.
Williams is in a hotel room in Vancouver in October 1980, awaiting the opening of his revised version of "The Red Devil Battery Sign" and hoping for the hit that will revitalize his flagging career. His put-upon assistant and sometime lover of 15 years is trying to keep him off the booze and cocaine. But when the assistant finds a handsome street hustler to be Williams' date for opening night, he gets more than he bargained for.
Under Tom Gualtieri's subtle direction, Dan Domingues excels as the tart assistant who loves Williams but can no longer bear to witness his pain and decline. Michael Busillo is terrific as the uneducated hustler surprised by his sudden affection for this old man. As Williams, Peter Goldfarb, despite not quite getting Williams' distinctive accent right, goes deep, showing his humor, terror, anguish, perception, and resignation—in short, his greatness.
Presented by Lyric Productions and Adam Blanshay as part of the New York International Fringe Festival at the Cherry Lane Theatre, 38 Commerce St
.,
NYC
.
Aug. 17
–
29. Remaining performances
:
Sat
.,
Aug. 22, 7 p.m
.;
Mon
.,
Aug. 24, 7 p.m
.;
Thu
.,
Aug. 27, 3:45 p.m
.;
Sat
.,
Aug. 29, noon
.(
866
)
468-7619 or www.fringenyc.org
.