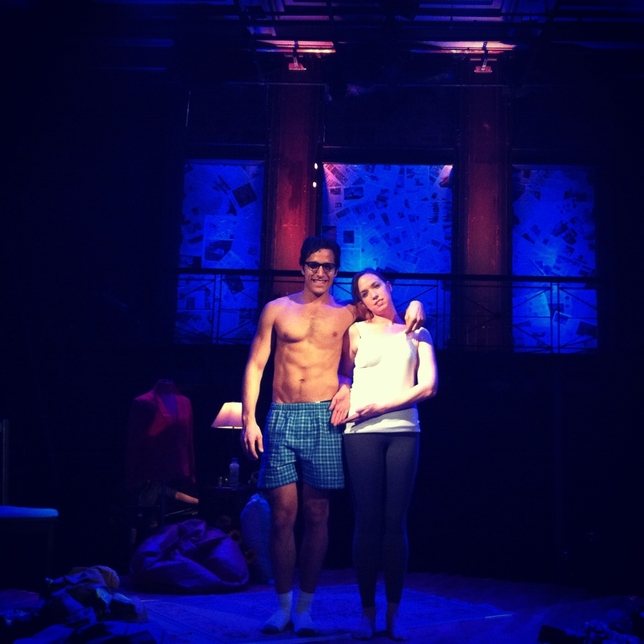 For a generation of girls (and some boys), television's "Sex and the City" sounded the siren song of Manhattan, setting visions of cosmos and Manolo Blahniks dancing in their impressionable heads. In "Hot Mess in Manhattan," Cait Doyle plays Mess, an aspiring young actor and Carrie Bradshaw disciple struggling in the city. Her life issues are a bit different from Carrie's, though. She's broke. In short order her boyfriend dumps her, she loses her job, and her mother coaxes her to give it all up and return to New Jersey. Perhaps worst of all, unlike Carrie, Mess doesn't have a circle of girlfriends with whom she can trade intimacies, just a sassy male chum named Gay (DJ Bucciarelli) who refers to her as "bitch," because sassy chums will do that.
Doyle and her sister, Meggie Doyle, developed this musical from a MAC Award–winning solo show. Bucciarelli and Jared Zirilli support her, playing multiple roles. A 75-minute one-act musical that's lately been climbing the developmental rungs and is here being presented as part of the second annual Araca Project, which is showcasing six new works in short runs, "Hot Mess in Manhattan" exhibits much promise and has a sweet but cheeky spirit.
The book, though not uniformly hilarious, includes plenty of zippy lines, a good number of which center on the "epic fails" in Mess' life. Gay tries to bring her out of her funk by having her better emulate her "SATC" heroine. Instead, she hooks up with Gay's cousin Andrew (Zirilli), a Jewish rapper. The sequence depicting their first romantic encounter and its awkward aftermath is one of the show's stronger segments.
Cait Doyle has an appealing Everygirl quality. At times there's an aura about her recalling the young Carol Burnett: a buoyant, self-aware, slightly tomboyish humor that prevents her bummed-out character from falling headlong into a permanent stupor. Doyle has an Everygirl singing voice too. Hardy and conversational rather than showy and slick, it fits the part. Zirilli is goofily sexy as Andrew, and he also has fun with his smaller roles. Bucciarelli's performance is not as strong, but as Gay his scenes with Mess are believable and frequently endearing.
The musical score is by several up-and-coming songwriters, which understandably works against cohesiveness. Some numbers are excellent. "Sleep Song" is Sam Carner and Derek Gregor's smartly observant post-coital duet for Mess and Andrew. Adam Gwon's "Running" takes true aim at the target hit by Stephen Sondheim's "Another Hundred People": the frantic squirreling about of New Yorkers in pursuit of God knows what. More audacious is Keith Varney's "A Song to Sing(pod)," a sardonic number about sponsoring children in Third-World countries, complete with a Bunraku-style puppet child. Varney ventures into a kind of "Book of Mormon" irreverence that the Doyles seem to aspire to throughout but haven't quite achieved.
Director David Ruttura and choreographer Joe Barros keep the actors moving, in the living room of Mess' islandlike apartment (designed by Andy Yanni) and also on tall moving ladders and overhead catwalks. I understand the desire to fill the entirety of the large playing space, but frankly those ladders made me nervous.
Presented by David Brush, Justin Nichols, and Greg Schaffert, in association with New York Theatre Barn, as part of the Araca Project at the American Theatre of Actors, 314 W. 54th St., NYC. Aug. 30–Sept. 8. Thu. and Fri., 8 p.m.; Sat., 2 and 8 p.m. (212) 352-3101, (866) 811-4111, or www.theatermania.com.
Critic's Score: B