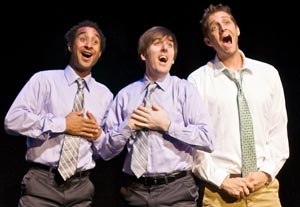 The original cast L.P. of "How Now, Dow Jones" has been one of my guilty pleasures for more than 30 years. And it's not because of the story, the cast, or even the lively tunes of film composer Elmer Bernstein in his Broadway debut. It's the lyrics by the great Carolyn Leigh. They shine, they sparkle, they snap, they land. Then there's the sheer bliss of her wonderfully inventive and playful rhymes. This is great lyric writing, folks. It's too bad it was done in the service of such a trite show (which, admittedly, was based on an idea of Leigh's).
Director Ben West's revision is more properly dubbed a condensation, clocking in at a brisk 75 minutes (the first act alone ran 90 back in 1968). It's still about a young woman who announces the Dow Jones average. Her trader fiancé won't marry her until the Dow hits 1,000. She gets pregnant in a one-night stand with a co-worker and makes a false announcement to get the fiancé to the altar. Pandemonium ensues.
West has eliminated the chorus, reconceived a main character, and streamlined subplots, cutting five and a half songs and restoring three (including the terrific "Where You Are"). But the romance is still ridiculous, while the Wall Street satire remains obvious and largely toothless. Still, West has directed it spiffily, there's snappy choreography by Rommy Sandhu, and the young and talented cast performs with charm to spare. Colin Hanlon is a standout as the co-worker, a role created by Tony Roberts. (Hanlon needs to get his lyrics down, though. Leigh would not have appreciated his mangling of her rhymes in "Gawk, Tousle, and Shucks.")
I had a perfectly delightful time. But I doubt we'll be seeing "How Now, Dow Jones" entering the repertory anytime soon.
Presented by UnsungMusicalsCo. as part of the New York International Fringe Festivalat the Minetta Lane Theatre, 18 Minetta Lane, NYC
.
Aug. 15
–
23. Remaining performances
:
Mon
.,
Aug. 17, 10:30 p.m
.;
Tue
.,
Aug. 18, 8 p.m
.;
Thu
.,
Aug. 20, 8:15 p.m
.;
Sun
.,
Aug. 23, 5:45 p.m
.
(
866
)
468-7619 or www.fringenyc.org
.