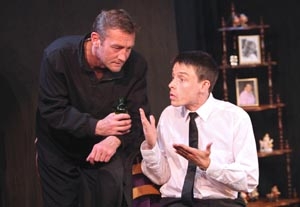 Irish playwright Deirdre Kinahan is making a vivid New York debut with "Hue & Cry," a tightly written two-hander from Ireland's Tall Tales Theatre Company playing in the tiny basement space at Irish Repertory Theatre as part of the First Irish Theatre Festival. This imaginative account of two cousins meeting on the eve of a family funeral starts quietly but packs quite a wallop.
Handsome, physically imposing Damian is a former footballer who's now a recovering heroin addict and divorced dad. Alone on stage as the play begins, he's clearly tense and unhappy. Soon the lithe Kevin, a successful modern-dance choreographer from Dublin, arrives. He's Damian's cousin, but it quickly becomes clear they haven't seen each other in ages. Damian has come back to his childhood home due to the sudden death of his father in a car crash. His appearance has severely upset his step-mother, who long ago banished him from the home and his father's life, and Kevin has been sent in to deal with it.
I won't say any more, because much of the appeal of Kinahan's writing lies in how she naturalistically fills us in on these two men and their histories through their halting, wary dialogue. I will say that the utterly unexpected climax involves a dance Kevin created about grief, which has terrific choreography by Muirne Bloomer.
Under David Horan's keen direction, both Paul Roe, as Damian, and Will O'Connell, as Kevin, shine. Roe convincingly limns the bewilderment Damian feels at the mess his life has become, quietly suggesting just how fragile this big lug really is. But the actor's work is never maudlin, and he also makes us understand why this man is a survivor. O'Connell's Kevin is in good-boy mode, but there's a tantalizing wildness lurking underneath. Both actors play together with an effortless and somehow dynamic intimacy.
Indeed, my only cavils are these. First, the space is a bit too small for the piece, though that is well-addressed by the production. Second, at barely 40 minutes, "Hue & Cry" hardly constitutes a full evening's entertainment. Doesn't the talented Kinahan have another one-act with which she can pair it? If not, she should get busy writing one.

Presented by Tall Tales Theatre Company as part of the First Irish Theatre Festival at the Irish Repertory Theatre, 132 W. 22nd St., NYC. Sept. 21–Oct. 3. Tue.–Sat., 8 p.m.; Sat. and Sun., 3 p.m. (Additional performance Sun., Sept. 26, 8 p.m.) (212) 868-4444 or www.smarttix.com.