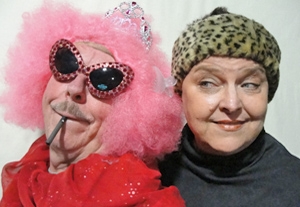 When you subtitle your show "Disaster on Parade (A Devastated Musical Revue)," you're just asking for it. Never mind that "If This Ain't It!," an inept little tuner playing at Theater for the New City, kept its audience waiting 10 minutes past curtain in the lobby, had numerous lighting and sound problems, and boasted no direction to speak of. All that could be forgiven if the material struck a note of honest humor and the show had a cast to put it across. Alas, both elements are sadly lacking in this motley collection of songs and sketches about life in the big city.
The loose premise focuses on a theatre troupe booted out of its home and thus forced to perform its show about economically oppressed denizens of the Lower East Side on the street. In return for some Vietnamese takeout, a homeless drag queen is dragooned into introducing duties, only to largely vanish until the big finale. A public-access cable host provides links between the numbers. The subjects are familiar and handled in an unimaginative fashion. You've got the clichéd routines about high rents and small apartments, a rich-bitch socialite basking in luxury suddenly winding up in the clink for tax evasion, the difficulties heterosexual women face in finding an available straight man, and a senseless ensemble number about food and religious groups that I'm still trying to figure out.
The music by Don Arrington, who also directs and plays several roles, is largely unmemorable. As for his lyrics, the ones I could hear were mostly trite. The rest were drowned out by the overamplified band. There are a few brief bright spots. A pretty number about waiting rooms and missed connections shows potential but becomes repetitive when the chorus sings the word "waiting" over and over for several minutes. Camille Tibaldeo as the TV host displays an engagingly jazzy voice, but it's not put to effective use. She has fun with the title song, but the rest of the show definitely ain't it.
Presented by and at Theater for the New City, 155 First Ave., NYC. Jan. 9–24. Thu.–Sat., 8 p.m.; Sun., 3 p.m. (212) 254-1109 or www.theaterforthenewcity.net.