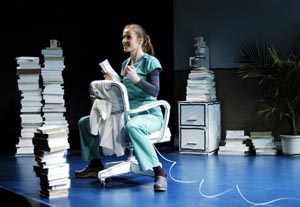 Wanting to do it all—to be a wife and a successful career person, a mother and a free spirit—is one of the defining struggles of the modern American female. How strange, then, that
In Security
should make it seem so uninteresting.
The straightforward premise offers much potential: On the day before her wedding, Lona Waverton, a doctor whose career is in liftoff, tries and fails to meet the many demands made on her by family, fiancé, friends, boss, and co-workers. The twist is that Lona, played by writer Anna Gutto, is the only live character on stage; the rest of the cast appears in projections on Lona's office wall whenever she answers the phone or listens to her voicemail. So
In Security
is essentially a one-woman show, with a multitude of voices simultaneously in Lona's life and head providing an effective model of the lonely heroism of the woman who, in trying to do everything, does nothing for herself.
Curiously, for a play that dramatizes a breakdown, the production moves at too comfortable a pace to be engaging. The projections, though artfully designed by Ann Oren, come and go politely without ever feeling menacing or overwhelming. Gutto plays only Lona's confidence; we get no sense of her vulnerability, and her collapse is mechanical rather than tragic.
Furthermore, the problem with a topic this relevant is that it is also very familiar, and as the plot is also relatively uncomplicated, what's needed is inventive, poetic, and surprising language to open up Lona's crisis in new ways. Instead, the awkwardly written script prefers platitudes to revelations and contains certain phrases that sound like a bad translation (Lona refers to marriage as "wife-life" in an otherwise climactic moment, for example). There is also a disconnect between the set and projection design, which evoke both cartoons such as
Peanuts
(lots of magic marker) and the intended realism of the characters and the plot.
In Security
seems to want to be a harrowing look at one woman's darkest moment, but it fails to enliven or inspire much investment from its audience.
Presented by Unbound Collectiveat 3LD Art & Technology Center, 80 Greenwich St
.,
NYC
.
April 22
–
May 10. Mon
.,
Wed
.–
Sun
.,
8 p.m
. (
No performance Thu
.,
April 23
.)
(
212
)
352-3101
, (
866
)
811-4111, www.theatermania.com, www.unboundcollective.org, or www.3ldnyc.org
.