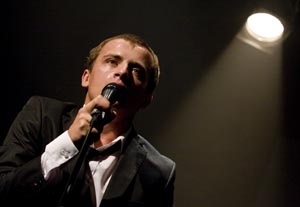 What are the requirements of cool for a stage show? Judging from this year's Under the Radar Festival, they include video projections, stage smoke, and a loud rock band. It also helps for the male actors to wear black mascara or smear red lipstick on their faces. A smidgen of nudity couldn't hurt. Polish director Radoslaw Rychcik, working with Stefan Zeromski Theatre of Kielce, Poland, has included all these touches in an adaptation of a French play by Bernard-Marie Koltes, who has attained cultlike status in Europe in the decades since he died of AIDS in 1989.
Written in dense, poetic French, "In the Solitude of Cotton Fields," which premiered two years before its author's death, offers an abstract confrontation between two characters, the Dealer and the Client, and seems to be making the point that modern life has transformed even the most intimate of human interactions into just another commercial transaction. (The director has told interviewers he sees it as being about "the dread of intimacy.")
The play has been translated into dense, poetic Polish (with English supertitles, sometimes blocked by the smoke or the performers) and turned into something of a spoken-word rock concert, the music supplied by the Polish punk band Natural Born Chillers. For a full 10 minutes after their entrance on the stage of the Club at La MaMa, the two actors, Wojciech Niemczyk, as the Dealer, and Tomasz Nosinski, as the Client, strike dramatically backlit Madonnalike poses and then begin to dance in place with Mick Jagger moves. Both are dressed like Tarantino hipster hoods, in black suits with narrow black ties and white socks. When the Dealer finally speaks, he says Jaggerlike things such as "I have what it takes to satisfy the desires that come my way."
This production was first presented almost three years ago, but in its effort to be cool, it feels far older. This is most evident in a 10-minute video that splices together rapid-fire glimpses of Disney animated films, Henry Fonda Westerns, softcore porn, etc., which might have seemed cutting-edge at the dawn of MTV.
The two actors are brave, appealing performers who manage to suggest a complex, fraught, and evolving relationship despite the many distractions and restrictions; they speak most of their monologues in front of floor mikes directly to the audience, concert style, rarely interacting directly with one another. Yet it cannot be a good sign that when two-thirds of the way through the 80-minute show, the lithe and sexy Nosinski removed every article of his hip clothing and stood before us naked, some theatergoers looked at their watches.
Presented by La MaMa ETC and the Public Theater as part of the Under the Radar Festival at LaMaMa ETC, 74 A E. Fourth St., NYC. Jan. 5–14. Sun. and Mon., 7 p.m.; Thu.–Sat., 9 p.m. (212) 352-3101, (866) 811-4111, (212) 475-7710, www.theatermania.com, or www.lamama.org.